Streaming Bluetooth iPhone Baby App
---
Stream Video
Spy Bot links two i-devices together to create an instant baby monitor app.
Record
Use the receiving device to easily and remotely control recording and streaming.
Bluetooth
Using Bluetooth to stream is extremely versatile & works from up to 50 feet away!
Upload & Share
What fun is recording adorable videos of your kids if no one sees it? Upload your videos!
---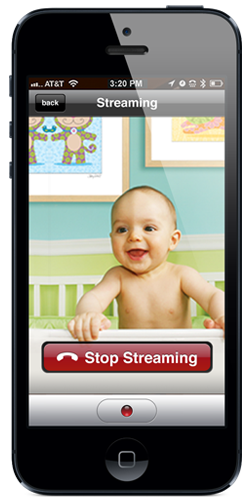 How does Spy Bot work?
Spy Bot works by using devices you already own such as the iPhone, iPad and / or iPod Touch. One device acts as the camera, and the other receives video / audio. Set your iPhone down with the camera facing your child, and watch from your iPad or iPod Touch from up to 50 feet away.
Let's say you are traveling with you children. As you already know, traveling with kids means packing a lot of accessories: toys, diapers, booties, etc. You need every inch of available space in your luggage.
With Spy Bot, all you have to pack is your iPhone, iPad and / or iPod Touch. Any combination of two will let you set up an on-the-fly baby monitor wherever you go.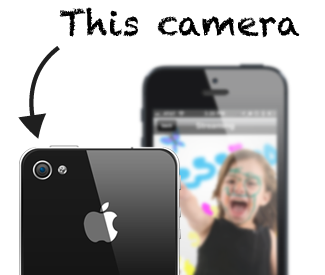 ---
Super Portable
Goes anywhere you take your iPad, iPhone, iPod Touch.
Connect to Anyone
Connect to anyone's iPhone, iPad or iPod Touch running Spy Bot.
No Extra Equipment
Use devices you already have and cut down on your luggage.
Ease of Use
Just four quick taps to activate your iPhone baby monitor.
Not Just for Infants
Are your kids are really doing their homework? (Probably not)
Spouse Supervision
Spy Bot could also help you keep an eye on your spouse!
Spy Bot can be used in a variety of situations. All it takes is two bluetooth enabled i-devices running Spy Bot. Spy Bot comes along wherever you take your iPad, iPhone or iPod Touch:
---
Why is it important that Spy Bot uses Bluetooth?
While other apps use wifi, carrier signal or bulky third party items, Spy Bot is the only bluetooth surveillance app for the iPhone, iPad and iPod Touch that uses devices you already own. That means that Spy Bot can be used in places that other apps cannot!
Spy Bot can work anywhere you have a good bluetooth connection between your devices. You could be in the middle of a forest hunting down bigfoot or on an airplane soaring over the ocean. As long as you have that bluetooth connectivity, you can use Spy Bot!
And by the way, we want to see your videos! You can sign up and compete for prizes on our
facebook page
!
Download Spy Bot