Online extortionists have launched a campaign involving an updated strain called Cerber Rans0mware, which features new *_READ_THIS_FILE_* ransom notes.
In the cybersecurity context, the term Cerber denotes a prolific specimen of file-encrypting ransomware. It is one of the very few strains sticking around for more than a year, while most crapware samples from this category emerge and vanish within a few months or sometimes even weeks. The high-profile architects of this campaign proved to be tech-savvy enough to implement the cryptographic facet of their offending code immaculately, so antimalware labs are still struggling to create a viable free decryption tool, to no avail at this point. To add insult to injury, this malicious operation reached a new milestone at the very beginning of April 2017. The crooks in charge released a new variant called the Cerber Rans0mware, with a zero instead of "o" in its name.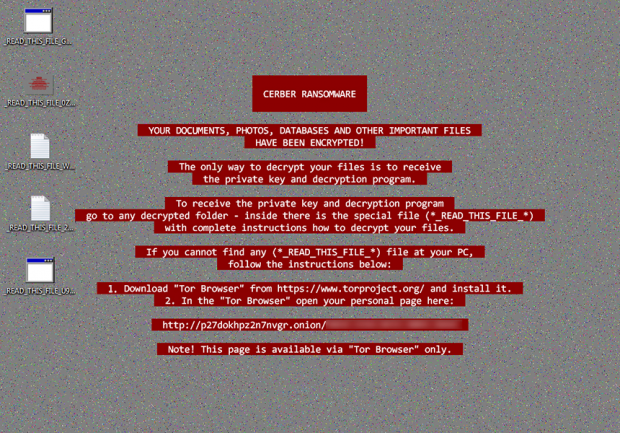 Another hallmark sign of this aggressive Trojan's latest edition is that it drops an array of ransom notes called *_READ_THIS_FILE_* (or *_READ_THI$_FILE*_) in three different formats, namely TXT, JPEG and HTA. In particular, these include the following files: _READ_THIS_FILE_[random_chars].txt/jpeg/hta. The part in square brackets is a random string of characters like 53QOD or similar. The image version of the decryption how-to ends up replacing the original desktop wallpaper. Each one of these manuals is essentially a walkthrough for the victim to start with the recovery process. The message has a wording that security analysts are already familiar with:
"Your documents, photos, databases and other important files have been encrypted! The only way to decrypt your files is to receive the private key and decryption program. To receive the private key and decryption program go to any encrypted folder – inside there is the special file (*_READ_THIS_FILE_*) with complete instructions how to decrypt your files."
The manual also instructs the plagued user to download and install Tor Browser and enter a victim-specific address in it to visit a personal "Cerber Decryptor" page. The latter tells the user to submit 1 BTC to a specified Bitcoin wallet in order to obtain the file decryptor. The deadline for this payment is five days – a countdown script displays how much time is left before the ransom doubles and thus amounts to 2 BTC.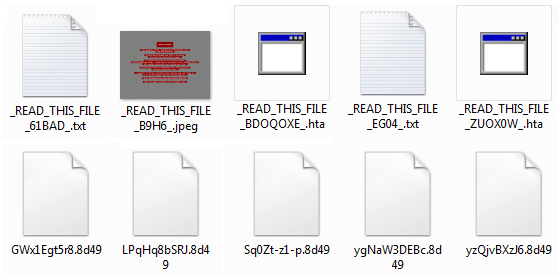 The authors of the Cerber Rans0mware (*_READ_THIS_FILE_* or *_READ_THI$_FILE_* edition) chose not to reinvent the wheel as far as the contamination workflow goes. The sole distribution vector revolves around rogue emails. Different waves of spam involved in the process are crafted for different locations, so the languages of the message body and title vary depending on where the recipient resides. The emails can be camouflaged as invoices or suchlike eye-catching subjects. The attachment tends to be a ZIP file. As soon as a random-named JavaScript object, for instance 53697.js, is extracted from this archive, the infection routine continues with downloading an executable from the crooks' Command and Control server. This EXE entity is fired automatically and the contamination proper commences behind the scenes.
Cerber Rans0mware then scans the hard disk, removable media and network drives for popular types of data and encrypts every matching item. Filenames are replaced with 10 random hexadecimal characters along the way and appended with a four-character extension, which is derived from the infected computer's MachineGuid value. To avoid the new _*READ_THIS_FILE*_, or _READ_THI$_FILE*_, variant of the Cerber Rans0mware, the most effective strategy is to refrain from opening suspicious spam email attachments. The troubleshooting after the fact, though, is an extremely difficult objective. The instruction below will help remove the ransomware and perhaps restore some hostage files without coughing up the ransom.
Cerber Rans0mware (*_READ_THIS_FILE_*) automated removal and data recovery
Owing to an up-to-date database of malware signatures and intelligent behavioral detection, the recommended software can quickly locate the infection, eradicate it and remediate all harmful changes. So go ahead and do the following:
1. Download and install the antimalware tool. Open the solution and have it check your PC for PUPs and other types of malicious software by clicking the Start Computer Scan button
2. Rest assured the scan report will list all items that may harm your operating system. Select the detected entries and click Fix Threats to get the troubleshooting completed.
Data recovery toolkit to the rescue
Some strains of ransomware are known to delete the original files after the encryption routine has been completed. As hostile as this activity appears, it can play into your hands. There are applications designed to revive the information that was obliterated because of malfunctioning hardware or due to accidental removal. The tool called Data Recovery Pro by ParetoLogic features this type of capability therefore it can be applied in ransom attack scenarios to at least get the most important files back. So download and install the program, run a scan and let it do its job.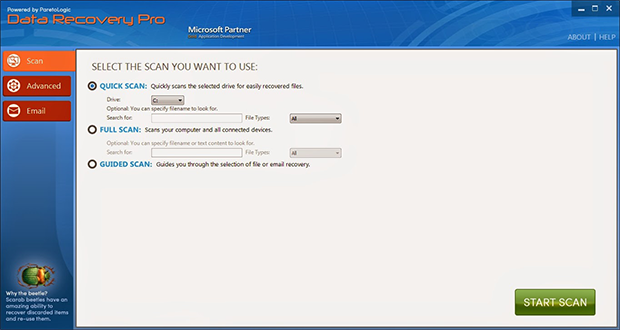 Cerber Rans0mware (*_READ_THI$_FILE_* variant) manual removal and file recovery
Some ransomware strains terminate themselves after completing the encryption job on a computer, but some don't. Furthermore, Cerber Rans0mware may prevent victims from using popular antimalware tools in order to stay on board for as long as possible. Under the circumstances, it may be necessary to utilize the Safe Mode with Networking or System Restore functionality.
Be advised that even after the ransomware is removed, files will still be encrypted and inaccessible. The malicious code cleanup part, however, is important because it keeps a relapse of the infection from occurring further on and eliminates all opportunistic malware.
Ways of non-ransom file recovery
Cracking the crypto used by this ransom Trojan is more of a science fiction thing rather than an attainable prospect for the masses. This is why the troubleshooting in predicaments of this sort is a matter of two approaches: one is to pay the ransom, which isn't an option for many victims; and the other is to apply instruments that take advantage of the ransomware's possible weaknesses. If the latter is your pick, the advice below is a must-try.
Ransomware Prevention Tips
To avoid Cerber Rans0mware and other file-encrypting infections in the future, follow several simple recommendations:
Toggle your email provider's anti-spam settings to filter out all the potentially harmful incoming messages. Raising the bar beyond the default protection is an important countermeasure for ransom Trojans.
Define specific file extension restrictions in your email system. Make sure that attachments with the following extensions are blacklisted: .js, .vbs, .docm, .hta, .exe, .cmd, .scr, and .bat. Also, treat ZIP archives in received messages with extreme caution.
Rename the vssadmin.exe process so that ransomware is unable to obliterate all Shadow Volume Copies of your files in one shot.
Keep your Firewall active at all times. It can prevent crypto ransomware from communicating with its C&C server. This way, the threat won't be able to obtain cryptographic keys and lock your files.
Back up your files regularly, at least the most important ones. This recommendation is self-explanatory. A ransomware attack isn't an issue as long as you keep unaffected copies of your data in a safe place.
Use an effective antimalware suite. There are security tools that identify ransomware-specific behavior and block the infection before it can do any harm.
These techniques are certainly not a cure-all, but they will add an extra layer of ransomware protection to your security setup.
Revise your security status
Post-factum assessment of the accuracy component in malware removal scenarios is a great habit that prevents the comeback of harmful code or replication of its unattended fractions. Make sure you are good to go by running an additional safety checkup.