The disruptive activity of Win.Trojan.Toa can range from intrusiveness to PC productivity impact, so learn a few simple tips on removing this infection.
The concept of computer Trojans is heterogeneous. This term can denote highly dangerous threats, such as file-encrypting ransom Trojans that extort cryptocurrency for data. It can also be used to designate low-severity infections that interfere with one's web browsing preferences and do no further damage. Win.Trojan.Toa is probably somewhere in the middle of this conventional classification. Whereas it won't lock down a victim's files or cause an operating system to malfunction in a drastic fashion, its effect is undoubtedly obnoxious. This baddie completely messes up the Internet surfing part of an infected user's computing. Not only does it replace the homepage, new tab and online search defaults with odd URLs of its own, but it also generates a slew of deceptive popup alerts that push junk or malicious software.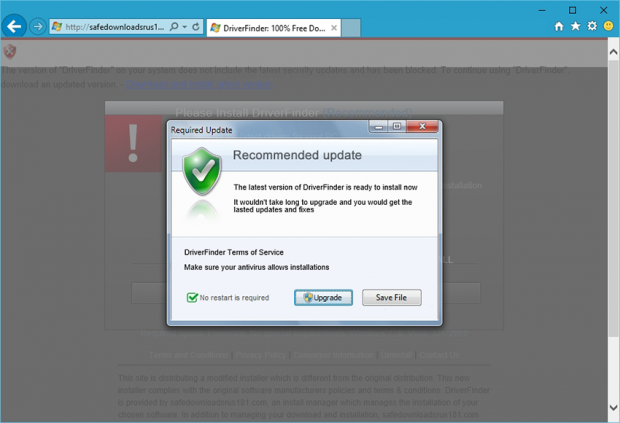 Cross-platform antivirus software ClamAV detects infected files as:
Win.Trojan.Toa-5370166-0
Win.Trojan.Toa-5366575-0
Win.Trojan.Toa-5370234-0
Win.Trojan.Toa-5370261-0
Win.trojan.toa-5370297-0
Win.Trojan.Toa can also simulate a system crash and display a BSOD (blue screen of death) to intimidate the user into reaching a rogue technician for assistance. This vector of its activity reflects a social engineering tactic that's popular with computer crooks these days. Having contacted the impostor pretending to be a tech service agent, victims run the risk of disclosing their personally identifiable information, such as credit card data and passwords for remote administration tools. The goal, obviously, is to defraud users of money and sensitive personal details. The scary warning screen is quite likely to cause an effect of urgency so that the victim will do what the scammers want.
The threat actors behind Win.Trojan.Toa also use their malicious code to distribute potentially unwanted software. To this end, the user's web traffic may be frequently redirected to landing pages with fishy behavior. These sites contain scripts that make misleading popups go off automatically. An example is a "Required update" alert that recommends the victim to install the latest version of some application they may not even have on their PC. The programs promoted this way typically include video players, media downloaders, hardware drivers and critical security patches. Meanwhile, dangerous spyware, banking trojans or ransomware can proliferate under the guise of these ostensibly harmless entities. The collateral damage from the misdemeanor of Win.Trojan.Toa can be as follows: computer performance deterioration, browser slowdown, and personal data harvesting. It's clear that the malicious program in question is unwelcome on a healthy machine, so it should be eradicated using some best practices of malware cleanup.
Automated removal of Win.Trojan.Toa virus
Owing to an up-to-date database of malware signatures and intelligent behavioral detection, the recommended software can quickly locate the infection, eradicate it and remediate all harmful changes. So go ahead and do the following:
1. Download and install the antimalware tool. Open the solution and have it check your PC for PUPs and other types of malicious software by clicking the Start Computer Scan button
2. Rest assured the scan report will list all items that may harm your operating system. Select the detected entries and click Fix Threats to get the troubleshooting completed.
Use Control Panel to get rid of Win.Trojan.Toa popup virus
• Open up the Control Panel from your Start menu in Windows and select Uninstall a program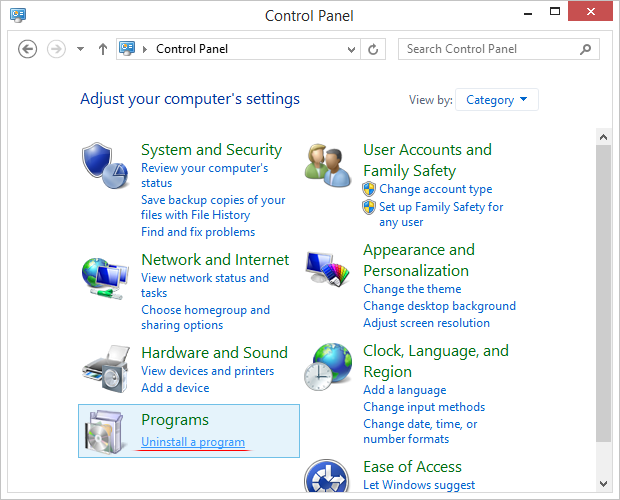 • To facilitate the process of locating the threat, sort the programs list by date to get the latest ones displayed at the very top. Look for unfamiliar entries under the Name column. When the likely crapware is found, click Uninstall and follow further directions to get the removal done.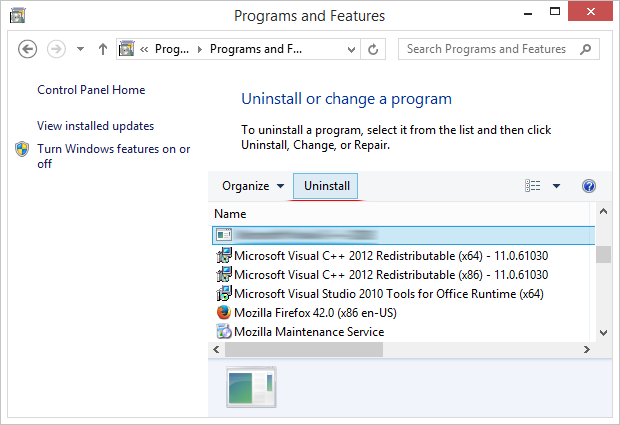 Restore web browser settings to their original defaults
In the circumstances of a complex browser hijack like this, executing a reset makes the most sense despite a few obvious downsides. Customizations such as saved passwords, bookmarked pages etc. will be gone, but so will all the changes made by the potentially unwanted program. The instructions below address the workflow for the web browsers most targeted by Win.Trojan.Toa virus.
Reset Mozilla Firefox
• Open Firefox, type about:support in the URL area and press Enter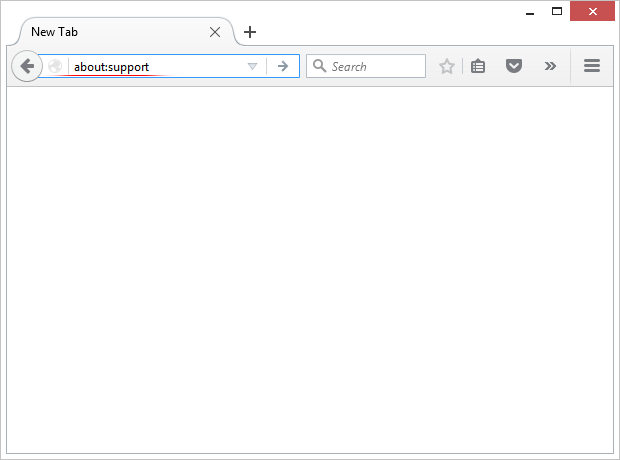 • On the Troubleshooting Information screen, spot the Refresh Firefox button and click on it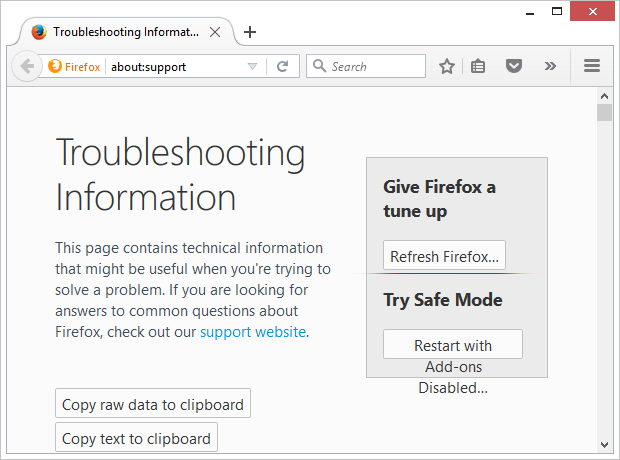 • Follow subsequent directions to reset Firefox to its original settings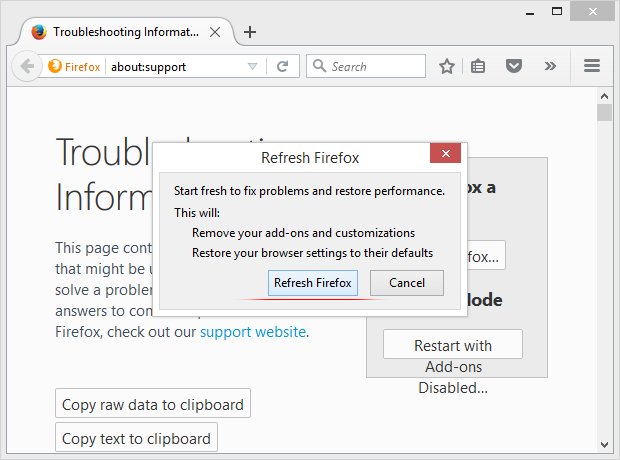 • Restart the browser.
Reset Google Chrome
• Open Chrome, click the icon for Chrome menu and choose Settings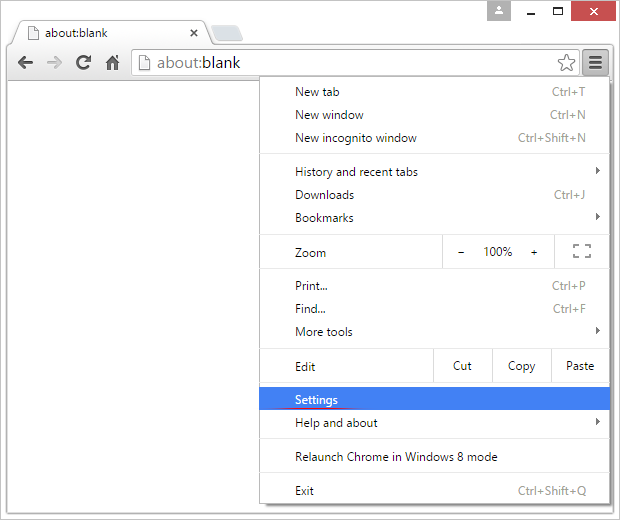 • Scroll down the settings screen and click Show advanced settings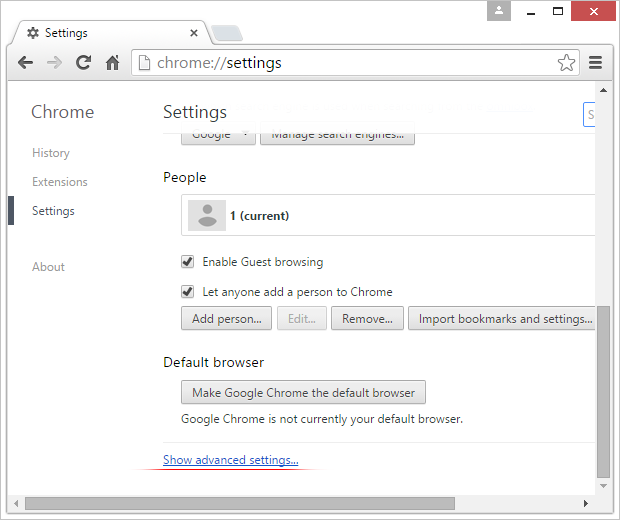 • Click Reset settings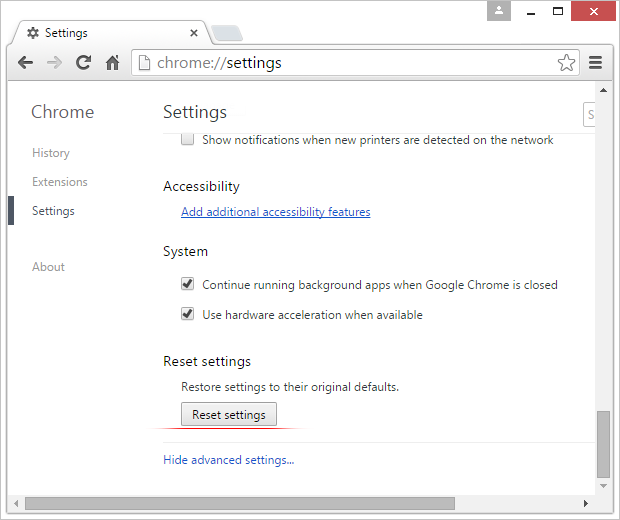 • Finally, confirm the restoration by clicking Reset on the warning message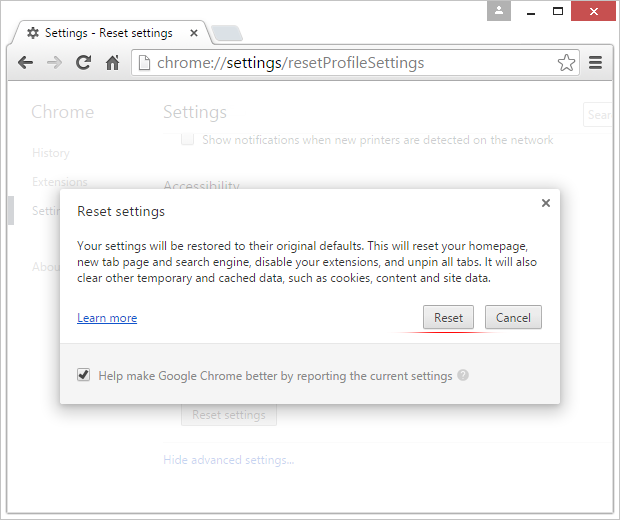 • Restart Chrome.
Reset Internet Explorer
• Select Internet options under IE's Tools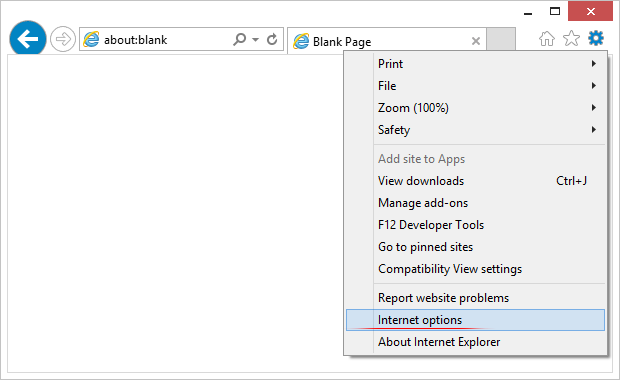 • Proceed by clicking on Advanced tab, then select Reset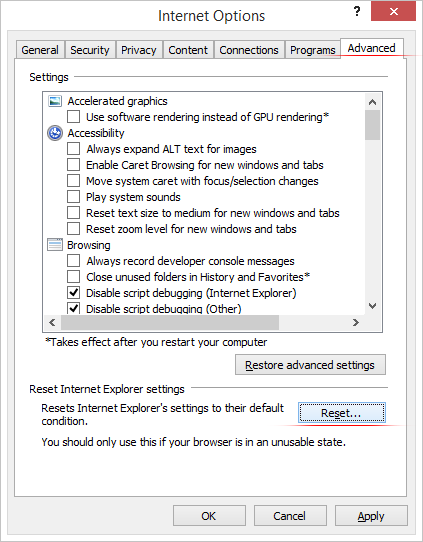 • To confirm the intended changes, click Reset on the Reset Internet Explorer Settings screen after ascertaining that the Delete personal settings checkbox is enabled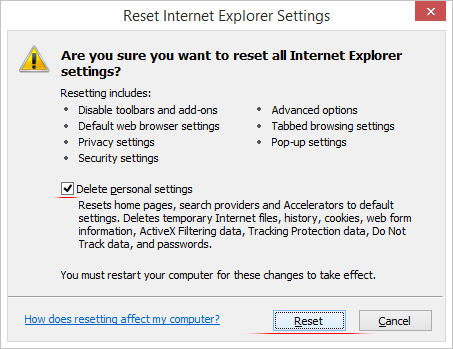 • Reboot the machine to fully implement the fix.
Revise your security status
Post-factum assessment of the accuracy component in malware removal scenarios is a great habit that prevents the comeback of harmful code or replication of its unattended fractions. Make sure you are good to go by running an additional safety checkup.