When compromised by the latest variant of the Dharma ransomware, computer users get their files appended with the .[webmafia@asia.com].wallet extension.
The species of malicious code categorized as crypto ransomware is heterogeneous enough to give security researchers a hard time in many ways. Some samples use primitive encryption practices that allow for brute-forcing of the decryption keys, while others are designed too professionally to crack. Unfortunately, the strain referred to as the Dharma/.wallet ransomware falls into the latter group. This particular lineage has been recently replenished with the specimen that concatenates the .[webmafia@asia.com].wallet extension to every encoded data entity on a target Windows computer. The email component of this string may be webmafia@india.com as well. The aftermath of this attack also involves the addition of a ransom note called Info.hta, which will automatically open in a separate window. In some cases, though, this file may assume the form of Readme.txt, 'Good morning.txt' or other plaintext document with a catchy name.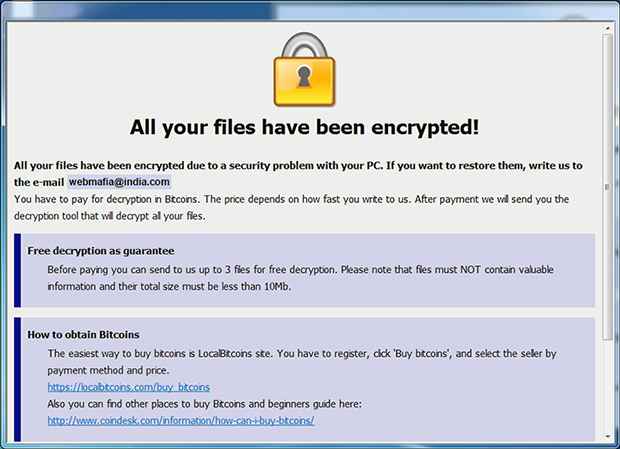 The current version of the Dharma crypto plague makes a sample file called Test.docx turn into Test.docx.[webmafia@asia.com].wallet. The extension format makes it quite easy to determine the digital adversary's name without having to resort to specially crafted ransomware identification services. Although this fact facilitates troubleshooting, it doesn't make the fix any easier. This pest targets more than a hundred different file types, which it spots inside an infested machine by their extensions. The scan for data is barely conspicuous, the only possible giveaway being an increased consumption of CPU resources during that time. Having located a victim's personal documents, photos, videos, databases and other important information, Dharma instantly applies a strong cryptographic algorithm called AES (Advanced Encryption Standard).
The secret AES key, which is the prerequisite of decryption, is nowhere to be found inside the system that got hit. It is in attackers' possession only, so the recovery routine is a function of negotiating with the crooks. The .[webmafia@asia.com].wallet suffix that's added to each mutilated file provides a straightforward clue on how to reach the threat actors – users are supposed to shoot a message to the email address sprinkled all across the PC. Another way to learn the instructions is through the above-mentioned recovery manual, which is most likely called Info.hta or Readme.txt. The ransom note also provides the victim with additional options, such as the ability to get up to 3 files restored for free as long as they do not bear valuable information and their total size doesn't exceed 10 MB. The ransom is payable solely in Bitcoin, which gives the bad guys an additional layer of anonymity. The amount varies. It may range from 0.5 BTC – to 2 BTC or even more.
The .[webmafia@asia.com].wallet file virus proliferates over social engineering backed by spam. Would-be victims receive fake invoices, delivery reports, ISP complaints, traffic violation notices or similar potentially eye-catching emails. Opening an attached file will fire the ransomware downloader and execute the malign process, so the contamination is then a matter of seconds. To avoid this predicament, staying away from suspicious email attachments should suffice. To handle the mess caused by the Dharma virus after it infects a system, the chances of successful data recovery are negligible unless the ransom route is okay with the victim. The section below, however, encompasses a totality of best-practice techniques that may help restore files locked by ransom Trojans.
.[webmafia@asia.com].wallet ransomware automated removal and data recovery
Owing to an up-to-date database of malware signatures and intelligent behavioral detection, the recommended software can quickly locate the infection, eradicate it and remediate all harmful changes. So go ahead and do the following:
1. Download and install the antimalware tool. Open the solution and have it check your PC for PUPs and other types of malicious software by clicking the Start Computer Scan button
2. Rest assured the scan report will list all items that may harm your operating system. Select the detected entries and click Fix Threats to get the troubleshooting completed.
Data recovery toolkit to the rescue
Some strains of ransomware are known to delete the original files after the encryption routine has been completed. As hostile as this activity appears, it can play into your hands. There are applications designed to revive the information that was obliterated because of malfunctioning hardware or due to accidental removal. The tool called Data Recovery Pro by ParetoLogic features this type of capability therefore it can be applied in ransom attack scenarios to at least get the most important files back. So download and install the program, run a scan and let it do its job.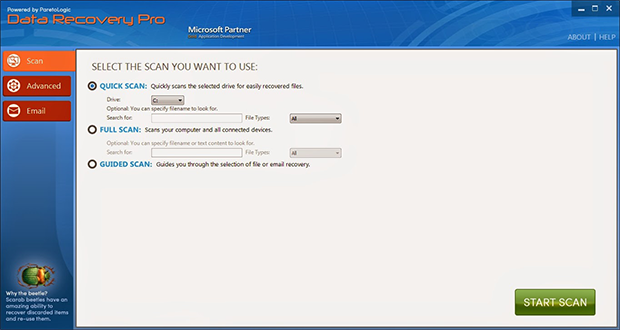 .[webmafia@asia.com].wallet ransomware manual removal and file recovery
Some ransomware strains terminate themselves after completing the encryption job on a computer, but some don't. Furthermore, the Dharma virus may prevent victims from using popular antimalware tools in order to stay on board for as long as possible. Under the circumstances, it may be necessary to utilize the Safe Mode with Networking or System Restore functionality.
Be advised that even after the ransomware is removed, files will still be encrypted and inaccessible. The malicious code cleanup part, however, is important because it keeps a relapse of the infection from occurring further on and eliminates all opportunistic malware.
Ways of non-ransom recovery of .[webmafia@asia.com].wallet files
Cracking the crypto used by this ransom Trojan is more of a science fiction thing rather than an attainable prospect for the masses. This is why the troubleshooting in predicaments of this sort is a matter of two approaches: one is to pay the ransom, which isn't an option for many victims; and the other is to apply instruments that take advantage of the ransomware's possible weaknesses. If the latter is your pick, the advice below is a must-try.
Ransomware Prevention Tips
To avoid the .[webmafia@asia.com].wallet ransomware and other file-encrypting infections in the future, follow several simple recommendations:
Toggle your email provider's anti-spam settings to filter out all the potentially harmful incoming messages. Raising the bar beyond the default protection is an important countermeasure for ransom Trojans.
Define specific file extension restrictions in your email system. Make sure that attachments with the following extensions are blacklisted: .js, .vbs, .docm, .hta, .exe, .cmd, .scr, and .bat. Also, treat ZIP archives in received messages with extreme caution.
Rename the vssadmin.exe process so that ransomware is unable to obliterate all Shadow Volume Copies of your files in one shot.
Keep your Firewall active at all times. It can prevent crypto ransomware from communicating with its C&C server. This way, the threat won't be able to obtain cryptographic keys and lock your files.
Back up your files regularly, at least the most important ones. This recommendation is self-explanatory. A ransomware attack isn't an issue as long as you keep unaffected copies of your data in a safe place.
Use an effective antimalware suite. There are security tools that identify ransomware-specific behavior and block the infection before it can do any harm.
These techniques are certainly not a cure-all, but they will add an extra layer of ransomware protection to your security setup.
Revise your security status
Post-factum assessment of the accuracy component in malware removal scenarios is a great habit that prevents the comeback of harmful code or replication of its unattended fractions. Make sure you are good to go by running an additional safety checkup.