The new Wana Decrypt0r 2.0 ransomware (aka Wanna Decryptor), which appends the .WNCRY extension to encrypted files, is taking online extortion attacks to a whole new level.
Although extortion through crypto viruses has been around for years, it's hard to recall a ransomware sample as rapidly expanding as Wana Decrypt0r 2.0. Its worldwide distribution took root on Friday, May 12, and is currently reaching tens of thousands of infections per hour – a figure never seen in this underground industry before. This nasty specimen is an enhanced offspring of an existing infection known as WCry, which originally surfaced in March. While sharing quite a few characteristics with its predecessor, the newbie uses a different propagation vector and has several indicators of compromise of its own. In particular, it concatenates the .WNCRY, .WCRY, .WNRY or .WNCRYPT string to every file that underwent the cryptographic impact. So for instance, a sample document named Essay.docx will become Essay.docx.WNCRY in the aftermath of this breach. Additionally, the offending code displays a warning window drops a ransom note called @Please_Read_Me@.txt into folders with affected files and the desktop.
The main pane of the ransomware reads, "What happened to My Computer? Your important files are encrypted. Many of your documents, photos, videos, databases and other files are no longer accessible because they have been encrypted." Unfortunately, this is true. The alert window also displays two countdown timers, the first one showing the amount of time left before the ransom payment will be raised, and the other counting down the time before your files will be lost. The former span is 3 days, and the latter is 7 days. The TXT edition of the decryption how-to contains a similar message, except the time indicators.
To make the attack yet more straightforward, Wanna Decryptor also replaces the victim's desktop background with a warning image. It says,
"Ooops, your important files are encrypted. If you see this text, but don't see the "Wana Decrypt0r" window, then your antivirus removed the decrypt software or your deleted it from your computer.

If you need your files you have to run the decrypt software.

Please find an application file named "@WanaDecryptor.exe@" in any folder or restore from the antivirus quarntine"
The entirety of scary alerts produced by the .WNCRY file virus suffices to pressure the victim into paying up. To redeem all personal information, plagued users are instructed to submit $300 worth of Bitcoin to a specified BTC wallet.
Unlike its less sophisticated forerunner, Wana Decrypt0r 2.0 reportedly relies on NSA exploit dubbed EternalBlue. This is one of the exploits recently leaked by a hacker group identifying themselves as The Shadow Brokers. In a nutshell, what this contamination vector means is it enables ransomware distributors to execute their bad code on computers manually through RDP (Remote Desktop Protocol). These types of remote access services are heavily used by small businesses and large corporations, so these are the primary targets for the crooks behind WNCRY malware. This fact became obvious when the ransomware first infected the IT infrastructure of Spanish organizations, including Telefonica, Iberdrola, and Gas Natural. Later on, the plague spread over to the UK, hitting the computer network of the country's National Health Service (NHS). Since Wana Decrypt0r zeroes in on high-profile targets, companies should adopt urgent countermeasures and have a ransomware incident response plan in place.
Unfortunately, a free decryption tool for .WNCRY extension files has yet to be created. According to preliminary analysis of security researchers, the infection implements the crypto part of its modus operandi flawlessly. So having a plan B that revolves around data backups is imperative. In some cases, a ransomware sample may fail to deploy the attack chain all the way and doesn't delete Shadow Copies of one's valuable files. That's why it's strongly recommended to try the best practices of forensic recovery before considering the ransom option. The step-by-step guide below will walk you through every alternative workaround to restore hostage information.
Wanna Decryptor 2.0 ransomware automated removal and data recovery
Owing to an up-to-date database of malware signatures and intelligent behavioral detection, the recommended software can quickly locate the infection, eradicate it and remediate all harmful changes. So go ahead and do the following:
1. Download and install the antimalware tool. Open the solution and have it check your PC for PUPs and other types of malicious software by clicking the Start Computer Scan button
2. Rest assured the scan report will list all items that may harm your operating system. Select the detected entries and click Fix Threats to get the troubleshooting completed.
Data recovery toolkit to the rescue
Some strains of ransomware are known to delete the original files after the encryption routine has been completed. As hostile as this activity appears, it can play into your hands. There are applications designed to revive the information that was obliterated because of malfunctioning hardware or due to accidental removal. The tool called Data Recovery Pro by ParetoLogic features this type of capability therefore it can be applied in ransom attack scenarios to at least get the most important files back. So download and install the program, run a scan and let it do its job.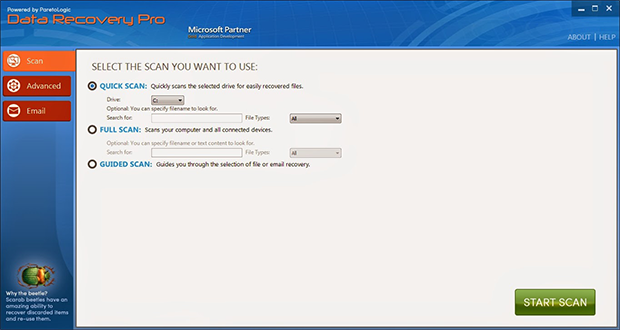 WNCRY file ransomware manual removal and file recovery
Some ransomware strains terminate themselves after completing the encryption job on a computer, but some don't. Furthermore, the .WNCRY file virus may prevent victims from using popular antimalware tools in order to stay on board for as long as possible. Under the circumstances, it may be necessary to utilize the Safe Mode with Networking or System Restore functionality.
Be advised that even after the ransomware is removed, files will still be encrypted and inaccessible. The malicious code cleanup part, however, is important because it keeps a relapse of the infection from occurring further on and eliminates all opportunistic malware.
Ways of non-ransom file recovery
Cracking the crypto used by this ransom Trojan is more of a science fiction thing rather than an attainable prospect for the masses. This is why the troubleshooting in predicaments of this sort is a matter of two approaches: one is to pay the ransom, which isn't an option for many victims; and the other is to apply instruments that take advantage of the ransomware's possible weaknesses. If the latter is your pick, the advice below is a must-try.
Ransomware Prevention Tips
To avoid .WNCRY file ransomware and other file-encrypting infections in the future, follow several simple recommendations:
Toggle your email provider's anti-spam settings to filter out all the potentially harmful incoming messages. Raising the bar beyond the default protection is an important countermeasure for ransom Trojans.
Define specific file extension restrictions in your email system. Make sure that attachments with the following extensions are blacklisted: .js, .vbs, .docm, .hta, .exe, .cmd, .scr, and .bat. Also, treat ZIP archives in received messages with extreme caution.
Rename the vssadmin.exe process so that ransomware is unable to obliterate all Shadow Volume Copies of your files in one shot.
Keep your Firewall active at all times. It can prevent crypto ransomware from communicating with its C&C server. This way, the threat won't be able to obtain cryptographic keys and lock your files.
Back up your files regularly, at least the most important ones. This recommendation is self-explanatory. A ransomware attack isn't an issue as long as you keep unaffected copies of your data in a safe place.
Use an effective antimalware suite. There are security tools that identify ransomware-specific behavior and block the infection before it can do any harm.
These techniques are certainly not a cure-all, but they will add an extra layer of ransomware protection to your security setup.
Revise your security status
Post-factum assessment of the accuracy component in malware removal scenarios is a great habit that prevents the comeback of harmful code or replication of its unattended fractions. Make sure you are good to go by running an additional safety checkup.