This detailed report covers a new ransomware specimen called TrueCrypter which uses cryptography to disable access to one's files and adds the .enc extension.
The TrueCrypter campaign is full of controversy. On the one hand, this Trojan is perfectly capable of encrypting the files of infected computer users beyond recovery, which is the chief prerequisite of success for threat actors operating on the digital extortion arena. On the other, its ransom payment functionality currently appears to be flawed, moreover it claims to accept payments over a not-so-secure channel. While malware researchers are at their wit's end figuring out what this occurrence actually is and how to handle it, it's sensible to predict that the operators of this sample will shortly perform appropriate bug fixes and come up with an onslaught that's viable all the way. So, what is known about TrueCrypter at this point?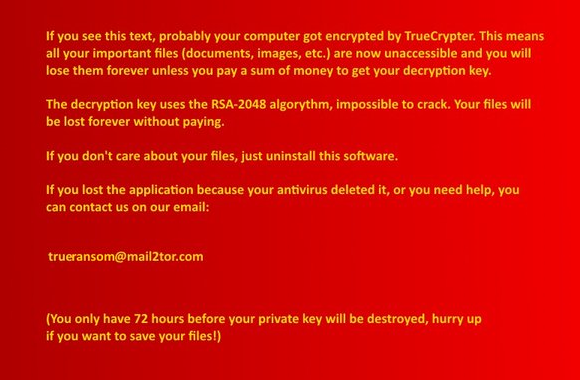 The ransomware in question employs AES-256 cryptography to encrypt files proper and then uses RSA-2048 algorithm to encode the previously generated decryption key. This approach isn't new for the crypto malware domain. It makes sure the infection takes a very firm grip on one's personal data and holds it hostage until the victim quenches the black hat hackers' financial appetite. Every encrypted file gets the .enc extension added to its original name, so it's easy to determine what's affected on the computer.
The TrueCrypter screen, which pops up after the crypto task has been fulfilled, says that the user can redeem the data by paying. The surprising part of the perpetrators' payment advice is that there is a choice between two services: Bitcoin or Amazon Gift Cards. This is really strange because unlike Bitcoin, the AGC option doesn't feature much anonymity, to put it mildly. Such an indiscretion may indicate that this campaign is run by dilettantes. Time will tell whether this assumption is true, though.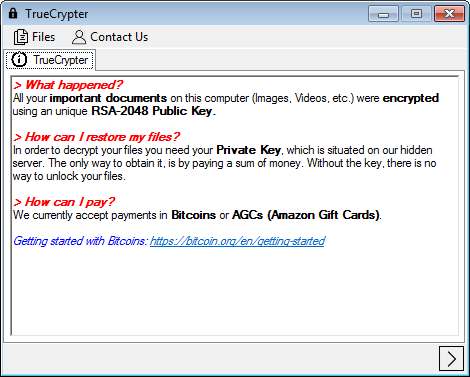 Yet another imperfection of this strain in its current shape is that the ransom payment option doesn't work in the first place. Even more, when a victim clicks the corresponding "Pay" button on the TrueCrypter interface, an amazing thing happens – the ransomware goes ahead and decrypts all the data for free. It's hard to tell how long this grace period will last, but the criminals are likely to fix this glitch in an updated edition of their code. If it all worked the way it's supposed to, the infected users would have to submit 0.2 Bitcoins or 115 USD worth of Amazon Gift Cards within 72 hours.
In case you are confronted with an updated version of TrueCrypter which actually requires money upfront and only then lets go of the data, be sure to follow professional recommendations that address such incidents. The malware removal part is a must-do regardless of the infection variant.
Automated removal of TrueCrypter virus
Owing to an up-to-date database of malware signatures and intelligent behavioral detection, the recommended software can quickly locate the infection, eradicate it and remediate all harmful changes. So go ahead and do the following:
1. Download and install the antimalware tool. Open the solution and have it check your PC for PUPs and other types of malicious software by clicking the Start Computer Scan button
2. Rest assured the scan report will list all items that may harm your operating system. Select the detected entries and click Fix Threats to get the troubleshooting completed.
Ways of non-ransom recovery of encrypted .enc files
Cracking the crypto used by this ransom trojan is more of a science fiction thing rather than an attainable prospect for the masses. This is why the troubleshooting in predicaments of this sort is a matter of two approaches: one is to pay the ransom, which isn't an option for many victims; and the other is to apply instruments that take advantage of the ransomware's possible weaknesses. If the latter is your pick, the advice below is a must-try.
Backups can make your day
Not only are you a lucky person in case you've been backing up your most important files, but you're also a wise and prudent user. This isn't necessarily a resource-heavy activity these days – in fact, some providers of online services are allocating a sufficient size of cloud storage space for free so that every customer can easily upload their critical data without paying a penny. Having removed TrueCrypter ransomware, therefore, all you have to do is download your stuff from the remote server or transfer it all from an external piece of hardware if that's the case.
Restore previous versions of encrypted files
A positive upshot of using this technique depends on whether or not the ransomware has erased the Volume Shadow Copies of the files on your PC. This is a Windows feature that automatically makes and keeps the backups of data elements on the hard drive as long as System Restore is enabled. The cryptoware in question is programmed to switch off the Volume Shadow Copy Service (VSS), but it has reportedly failed to in some cases. Checking one's options regarding this workaround is doable in two ways: through the Properties menu of each file or by means of the remarkable open-source tool called Shadow Explorer. We recommend the software-based way because it's automated, hence faster and easier. Just install the app and use its intuitive controls to get previous versions of the encrypted objects reinstated.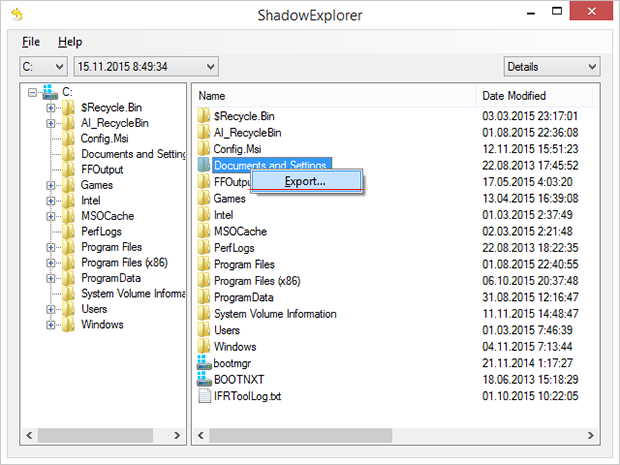 Data recovery toolkit to the rescue
Some strains of ransomware are known to delete the original files after the encryption routine has been completed. As hostile as this activity appears, it can play into your hands. There are applications designed to revive the information that was obliterated because of malfunctioning hardware or due to accidental removal. The tool called Data Recovery Pro by ParetoLogic features this type of capability therefore it can be applied in ransom attack scenarios to at least get the most important files back. So download and install the program, run a scan and let it do its job.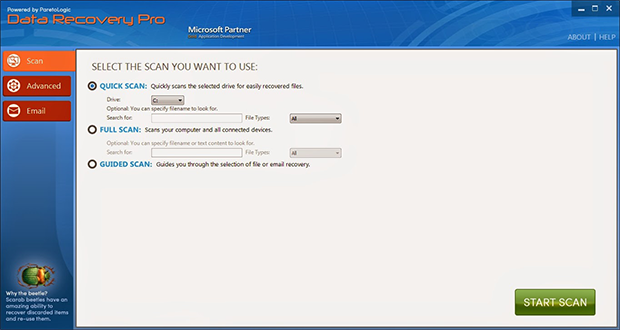 Revise your security status
Post-factum assessment of the accuracy component in malware removal scenarios is a great habit that prevents the comeback of harmful code or replication of its unattended fractions. Make sure you are good to go by running an additional safety checkup.