Find out why RegSvr32.exe may be flagged by antivirus tools as malicious, although it's a regular Windows process, and fix the associated error problems.
Object linking and embedding (OLE) controls on Windows platform are normally deployed by the RegSvr32 process. Specifically, it is used for registering and unregistering ActiveX controls or DLL (Dynamic Link Library) modules. While the process itself is legitimate and purely auxiliary, the objects it's supposed to manage can be malicious. As a rule, users don't notice RegSvr32.exe running in the background, unless of course they open up the Task Manager interface and look up the items being currently executed. There are cases, however, where error notifications appear instantly after system startup or in the course of an arbitrary session, saying "Error loading mshtml.dll module" or "The module mshtml.dll failed to load". It's the RegSvr32 utility that triggers these messages, so it makes sense figuring out what went wrong with the respective associations and controls in the OS.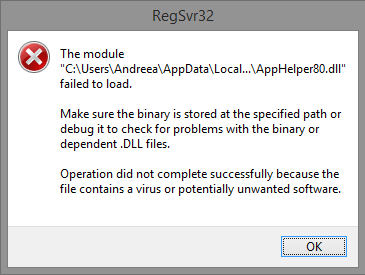 One of the possible reasons for this disorder is incompleteness of malware removal. This scenario is preceded by a security product detecting an arbitrary infection that auto-runs at boot time due to RegSvr32.exe. The antivirus removes the threat but doesn't always fix the related launch routine. As a result, the operating system keeps trying to execute the DLL item which is already missing, hence the error popups.
Another explanation of the disruptive effects in question is the presence of rootkit-like malicious code on the computer. It may take over and exploit RegSvr32.exe so as to trigger random components supporting the viral operation. In this event, the patterns of memory usage by this process will be regularly approaching 100%, making the PC slow, unresponsive and bleeping at times. Such a heavy load on hardware ultimately renders the machine barely operable. As far as troubleshooting is concerned, it all depends on the type and cause of the malfunction. If it's the missing startup entry situation, cleaning the Registry and double-checking the workstation for viruses should do the trick. If the issue is induced by a piece of stealthy malware, it's advised to run a top-notch security suite and thus eliminate the bug.
Automated removal of RegSvr32.exe virus
Owing to an up-to-date database of malware signatures and intelligent behavioral detection, the recommended software can quickly locate the infection, eradicate it and remediate all harmful changes. So go ahead and do the following:
1. Download and install the antimalware tool. Open the solution and have it check your PC for PUPs and other types of malicious software by clicking the Start Computer Scan button
2. Rest assured the scan report will list all items that may harm your operating system. Select the detected entries and click Fix Threats to get the troubleshooting completed.