This tutorial highlights key characteristics of the Nemesis ransomware variant called Cry9 and provides efficient instructions to restore hostage files.
No other computer threat compares to ransomware when it comes to prevalence and troubleshooting difficulties. The threat actors involved in this illegal cyber-borne business have literally weaponized cryptography, an originally benign field of science. By encrypting a victim's data and holding it hostage, the attackers have strong grounds to put forward their mercantile demands and expect an incoming payment in exchange for recovery. This is exactly how the Nemesis ransomware operates. Its prototype, also referred to as CryptON, was released in mid-November 2016. It wasn't until April this year that its enhanced version dubbed Cry9 surfaced.
This offending program appends one of the following extensions to locked files: .id-_[qg6m5wo7h3id55ym.onion.to].63vc4, .id-_[nemesis_decryptor@aol.com].xj5v2, .id-_x3m, .id-_r9oj, .id-_[x3m-pro@protonmail.com]_[x3m@usa.com].x3m, or ._[wqfhdgpdelcgww4g.onion.to].r2vy6. Therefore, a sample file named Camomile.png will turn into something like Camomile.png.id-2577110369_[qg6m5wo7h3id55ym.onion.to].63vc4.
Every folder with encrypted files will also contain a new element called "### DECRYPT MY FILES ###.html". It is a ransom note containing a walkthrough for file decryption. The warning part in it goes, "Nemesis Ransomware. All your work and personal files have been encrypted. To decrypt your files you need to buy the special software – Nemesis decryptor." To proceed with recovery, the victim is supposed to visit the Tor page indicated in this how-to file. By the way, this URL matches the one in square brackets concatenated to every scrambled file.
Then, the user needs to enter their personal ID to sign in to an .onion page titled the "Nemesis Ransomware Chat". The rest of the recovery workflow is a matter of negotiations with the crooks via this online chat. The size of the ransom reportedly ranges from $500 to $1,500 worth of Bitcoin, depending on the volume and importance of data, as well as the bad guys' mood.
One of the things that makes the current build of this junk stand out from the pack is the use of Remote Desktop Protocol for distribution, while most ransom Trojans out there stick with the malspam route. The perpetrators are obviously proficient in brute-forcing. By obtaining users' RDP credentials this way, they are able to log into computers and servers directly. Upon intrusion, the hackers deploy Cry9 ransomware inside the host environment without much chance for the targeted user to thwart this.
The infection first disables VSS (Volume Shadow Copy Service) so that the victim cannot use shadow copies as a recovery vector. Then goes the encryption phase proper, which is quite interesting in this case, too. Cry9 is not equipped with a list of file extensions to look for, so it zeroes in on all types of data. The only exclusions are Program Files and Windows directories – that's a means to keep the target system running stable during the attack.
The instructions below include tried-and-tested techniques to handle Cry9 ransomware and other variants of the Nemesis infection. Keep in mind that although its encryption is rock-solid, paying the ransom right away is a losing strategy.
Nemesis (Cry9) ransomware automated removal and data recovery
Owing to an up-to-date database of malware signatures and intelligent behavioral detection, the recommended software can quickly locate the infection, eradicate it and remediate all harmful changes. So go ahead and do the following:
1. Download and install the antimalware tool. Open the solution and have it check your PC for PUPs and other types of malicious software by clicking the Start Computer Scan button
2. Rest assured the scan report will list all items that may harm your operating system. Select the detected entries and click Fix Threats to get the troubleshooting completed.
Data recovery toolkit to the rescue
Some strains of ransomware are known to delete the original files after the encryption routine has been completed. As hostile as this activity appears, it can play into your hands. There are applications designed to revive the information that was obliterated because of malfunctioning hardware or due to accidental removal. The tool called Data Recovery Pro by ParetoLogic features this type of capability therefore it can be applied in ransom attack scenarios to at least get the most important files back. So download and install the program, run a scan and let it do its job.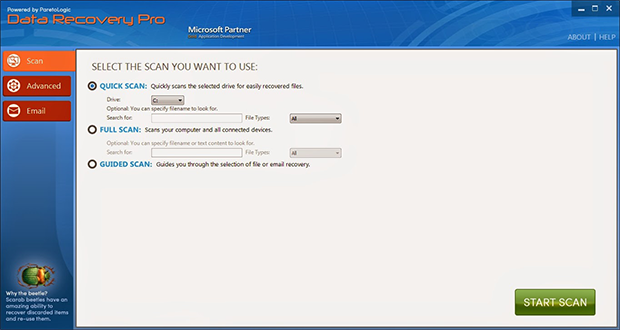 Nemesis ransomware manual removal and file recovery
Some ransomware strains terminate themselves after completing the encryption job on a computer, but some don't. Furthermore, the Cry9 version of Nemesis virus may prevent victims from using popular antimalware tools in order to stay on board for as long as possible. Under the circumstances, it may be necessary to utilize the Safe Mode with Networking or System Restore functionality.
Be advised that even after the ransomware is removed, files will still be encrypted and inaccessible. The malicious code cleanup part, however, is important because it keeps a relapse of the infection from occurring further on and eliminates all opportunistic malware.
Ways of non-ransom file recovery
Cracking the crypto used by this ransom Trojan is more of a science fiction thing rather than an attainable prospect for the masses. This is why the troubleshooting in predicaments of this sort is a matter of two approaches: one is to pay the ransom, which isn't an option for many victims; and the other is to apply instruments that take advantage of the ransomware's possible weaknesses. If the latter is your pick, the advice below is a must-try.
Ransomware Prevention Tips
To avoid Nemesis ransomware and other file-encrypting infections in the future, follow several simple recommendations:
Toggle your email provider's anti-spam settings to filter out all the potentially harmful incoming messages. Raising the bar beyond the default protection is an important countermeasure for ransom Trojans.
Define specific file extension restrictions in your email system. Make sure that attachments with the following extensions are blacklisted: .js, .vbs, .docm, .hta, .exe, .cmd, .scr, and .bat. Also, treat ZIP archives in received messages with extreme caution.
Rename the vssadmin.exe process so that ransomware is unable to obliterate all Shadow Volume Copies of your files in one shot.
Keep your Firewall active at all times. It can prevent crypto ransomware from communicating with its C&C server. This way, the threat won't be able to obtain cryptographic keys and lock your files.
Back up your files regularly, at least the most important ones. This recommendation is self-explanatory. A ransomware attack isn't an issue as long as you keep unaffected copies of your data in a safe place.
Use an effective antimalware suite. There are security tools that identify ransomware-specific behavior and block the infection before it can do any harm.
These techniques are certainly not a cure-all, but they will add an extra layer of ransomware protection to your security setup.
Revise your security status
Post-factum assessment of the accuracy component in malware removal scenarios is a great habit that prevents the comeback of harmful code or replication of its unattended fractions. Make sure you are good to go by running an additional safety checkup.