Although the winter holiday season is over, crooks behind the Merry X-Mas ransomware have launched a new variant that appends the .merry extension to files.
The Merry X-Mas, or Merry Christmas, ransomware was first spotted in the wild in early January 2017. It leverages a custom cryptographic algorithm to lock down a victim's personal data. Originally, this ransom Trojan would concatenate the .PEGS1, .RARE1, .MRCR1, or .RMCM1 extension to encoded files. Over the past few days, however, an updated edition has been circulating that uses the .MERRY extension instead. The new version also leaves a ransom note called MERRY_I_LOVE_YOU_BRUCE.hta, sprinkling copies of it on the desktop and all folders with mutilated data entries. The warning window returns a message saying, "All computer data encrypted," displays a time countdown line and provides the victim's unique ID. The ransom manual also lists credentials to contact the threat actors for file recovery steps, namely the Telegram Messenger username @comodosecurity, and regular email comodosec@yandex.com.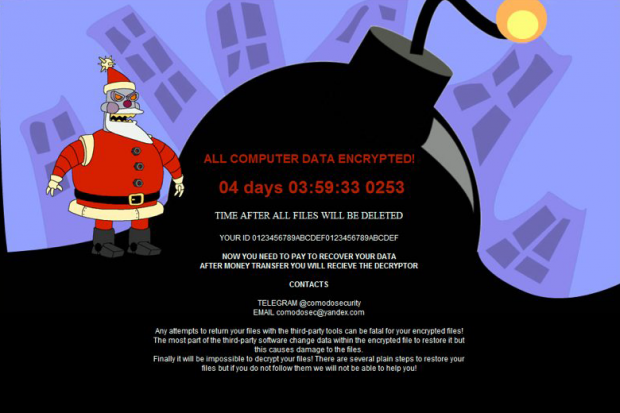 The .MERRY file extension variant of the Merry X-Mas ransom Trojan is proliferating over spam. The social engineering component of this tactic involves rogue consumer complaint notifications, invoices, law violation reports and similar tricky themes. One type of the linked-to documents is an executable camouflaged as a PDF file, in which case the ransomware gets launched once the unsuspecting user double-clicks this object. Another type is an attached Microsoft Word file that shows a prompt about the necessity of downloading some font to view the document. In this scenario, the contamination takes place via a vulnerability in Word macros that the would-be victim unknowingly enables.
After the infection jumps into a host system, it doesn't manifest itself straightforwardly for a while. During this time, the Trojan harvests computer-specific data, including the machine's name, username, hardware configuration, local time, and installed software. Then, it transmits these details to its Command & Control server. At the next stage of the compromise, the Merry X-Mas file-encrypting pest scans the hard drive for the user's valuable data. In this activity, it is driven by the criterion of file formats – it has a built-in list of file extensions to target. All the detected items are subject to scrambling through the use of a strong cryptosystem. As opposed to many other ransomware samples out there, this one does not modify filenames proper. Instead, it simply puts the .MERRY extension at the end. Here is an example of this transformation: an object named template.xlsx turns into template.xlsx.MERRY, where the suffix is usually capitalized.
The above-mentioned MERRY_I_LOVE_YOU_BRUCE.hta application then pops up to instruct the victim on further actions. Ultimately, the recovery boils down to exchanging messages with the attackers over Telegram or webmail and negotiating the size of the Bitcoin ransom. Whereas security researchers have had some success with cracking this strain, no one can guarantee a favorable outcome. Furthermore, the .MERRY file edition tends to spread alongside Diamond Fox, a virus that steals sensitive information and adds computers to a botnet. That's why it's also mandatory to check a Merry X-Mas ransomware-stricken machine for accompanying malware.
.MERRY ransomware automated removal and data recovery
Owing to an up-to-date database of malware signatures and intelligent behavioral detection, the recommended software can quickly locate the infection, eradicate it and remediate all harmful changes. So go ahead and do the following:
1. Download and install the antimalware tool. Open the solution and have it check your PC for PUPs and other types of malicious software by clicking the Start Computer Scan button
2. Rest assured the scan report will list all items that may harm your operating system. Select the detected entries and click Fix Threats to get the troubleshooting completed.
Data recovery toolkit to the rescue
Some strains of ransomware are known to delete the original files after the encryption routine has been completed. As hostile as this activity appears, it can play into your hands. There are applications designed to revive the information that was obliterated because of malfunctioning hardware or due to accidental removal. The tool called Data Recovery Pro by ParetoLogic features this type of capability therefore it can be applied in ransom attack scenarios to at least get the most important files back. So download and install the program, run a scan and let it do its job.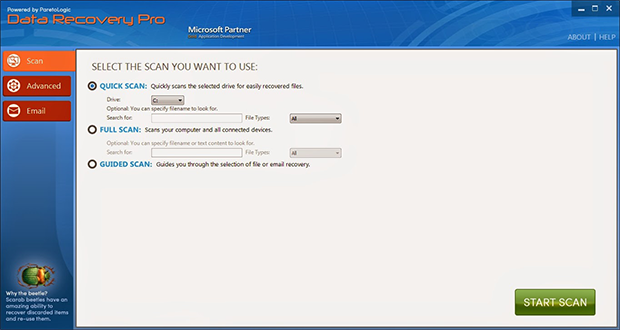 .MERRY ransomware manual removal and file recovery
Some ransomware strains terminate themselves after completing the encryption job on a computer, but some don't. Furthermore, the Merry X-Mas virus may prevent victims from using popular antimalware tools in order to stay on board for as long as possible. Under the circumstances, it may be necessary to utilize the Safe Mode with Networking or System Restore functionality.
Be advised that even after the ransomware is removed, files will still be encrypted and inaccessible. The malicious code cleanup part, however, is important because it keeps a relapse of the infection from occurring further on and eliminates all opportunistic malware.
Ways of non-ransom recovery of .MERRY files
Cracking the crypto used by this ransom Trojan is more of a science fiction thing rather than an attainable prospect for the masses. This is why the troubleshooting in predicaments of this sort is a matter of two approaches: one is to pay the ransom, which isn't an option for many victims; and the other is to apply instruments that take advantage of the ransomware's possible weaknesses. If the latter is your pick, the advice below is a must-try.
Ransomware Prevention Tips
To avoid the .MERRY ransomware and other file-encrypting infections in the future, follow several simple recommendations:
Toggle your email provider's anti-spam settings to filter out all the potentially harmful incoming messages. Raising the bar beyond the default protection is an important countermeasure for ransom Trojans.
Define specific file extension restrictions in your email system. Make sure that attachments with the following extensions are blacklisted: .js, .vbs, .docm, .hta, .exe, .cmd, .scr, and .bat. Also, treat ZIP archives in received messages with extreme caution.
Rename the vssadmin.exe process so that ransomware is unable to obliterate all Shadow Volume Copies of your files in one shot.
Keep your Firewall active at all times. It can prevent crypto ransomware from communicating with its C&C server. This way, the threat won't be able to obtain cryptographic keys and lock your files.
Back up your files regularly, at least the most important ones. This recommendation is self-explanatory. A ransomware attack isn't an issue as long as you keep unaffected copies of your data in a safe place.
Use an effective antimalware suite. There are security tools that identify ransomware-specific behavior and block the infection before it can do any harm.
These techniques are certainly not a cure-all, but they will add an extra layer of ransomware protection to your security setup.
Revise your security status
Post-factum assessment of the accuracy component in malware removal scenarios is a great habit that prevents the comeback of harmful code or replication of its unattended fractions. Make sure you are good to go by running an additional safety checkup.