If the KuaiZip application has ended up on a PC, removing it is a necessary security measure as it displays annoying ads and promotes other malicious software.
Using the KuaiZip software is a mixed blessing. On the one hand, it claims to archive data with higher compression ratio than competing tools WinRAR, WinZip and 7-Zip do. According to this app's official web page, its merits also include support of more than 40 popular formats, ability to work with virtual hard disks without using virtual machine, and more. Plus, it's free to use. However, the ostensibly all-embracing feature set of KuaiZip has got a flip side. Users who install it start experiencing issues with obnoxious ads that pop up from the system tray and flood visited web pages. These advertisements recommend victims to install some crappy software, possibly malicious, or go to certain sites that may host malware.
The biggest impact encountered by those infected is in the way web browsers operate. Whether a user navigates to an ecommerce site, blog or their favorite news resource, it will be crammed up with comparison shopping items, coupons, freebies and other types of adverts. A particular nuisance is interstitial advertising that also occurs due to the interference of KuaiZip. Full-page transitional ads will be automatically opening up in the background, causing the affected browser to run slower. The unwanted program also tends to embed numerous in-text links all over web pages, which can be clicked accidentally and spawn yet more junk in separate tabs or new browser windows.
On top of that, KuaiZip is likely to generate dialogs that strongly recommend the victim to install some product in order to enhance computer performance or address security issues. For instance, these alerts may wrongfully state that the system is at risk due to spyware or Trojans, while in fact the only troublemaker is the compression tool in question. Notifications of this sort are deceptive and should not be taken for granted, otherwise more infections may slither their way into the target PC. Not only are these popups and splash screens annoying enough to interrupt the user's normal computing routine, but they also ending up becoming a resource hog that deteriorates the overall functioning of the machine. Yet another side effect of KuaiZip is that the victim may be unable to open and use other programs, especially antimalware suites that could flag the impostor as a malicious entity.
The way this controversial utility propagates is nothing out of the ordinary. It clings to third-party applications by means of bundling, a technique that allows distributing arbitrary software alongside harmless-looking free programs, such as media players, hardware drivers, or online video converters. So users should treat freeware installation clients with a bit of paranoia and always go the custom setup route rather than the default (recommended) option. When it comes to removing KuaiZip from a computer, regular uninstall methods may be inefficient. The best way to go about this issue is to follow a specially crafted adware elimination procedure.
Automated removal of KuaiZip virus
Owing to an up-to-date database of malware signatures and intelligent behavioral detection, the recommended software can quickly locate the infection, eradicate it and remediate all harmful changes. So go ahead and do the following:
1. Download and install the antimalware tool. Open the solution and have it check your PC for PUPs and other types of malicious software by clicking the Start Computer Scan button
2. Rest assured the scan report will list all items that may harm your operating system. Select the detected entries and click Fix Threats to get the troubleshooting completed.
Use Control Panel to get rid of KuaiZip adware
• Open up the Control Panel from your Start menu in Windows and select Uninstall a program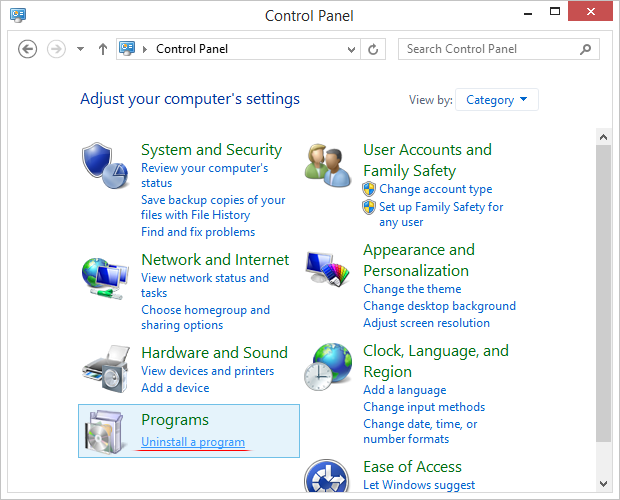 • To facilitate the process of locating the threat, sort the programs list by date to get the latest ones displayed at the very top. Find KuaiZip or some other unfamiliar entry under the Name column, click Uninstall and follow further directions to get the removal done.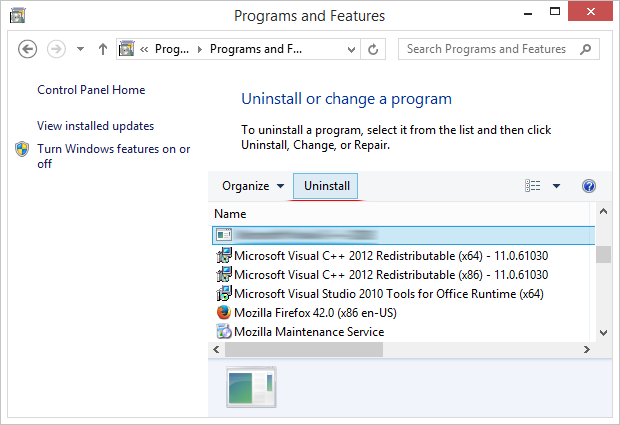 Restore web browser settings to their original defaults
In the circumstances of a complex browser hijack like this, executing a reset makes the most sense despite a few obvious downsides. Customizations such as saved passwords, bookmarked pages etc. will be gone, but so will all the changes made by the potentially unwanted program. The instructions below address the workflow for the web browsers most targeted by KuaiZip.
Reset Mozilla Firefox
• Open Firefox, type about:support in the URL area and press Enter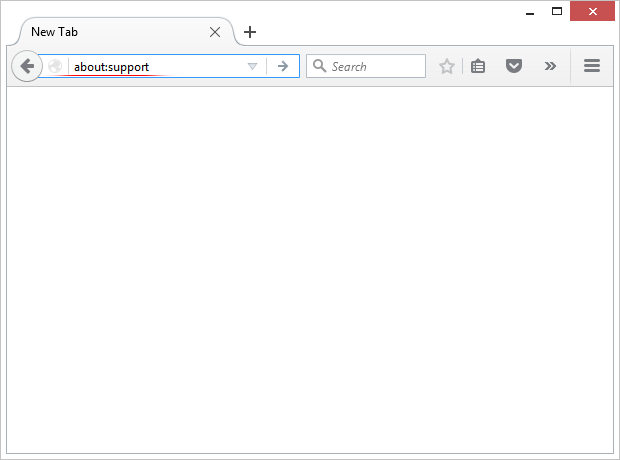 • On the Troubleshooting Information screen, spot the Refresh Firefox button and click on it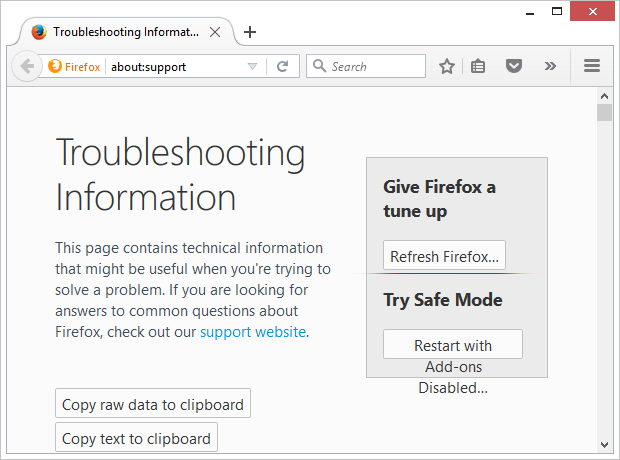 • Follow subsequent directions to reset Firefox to its original settings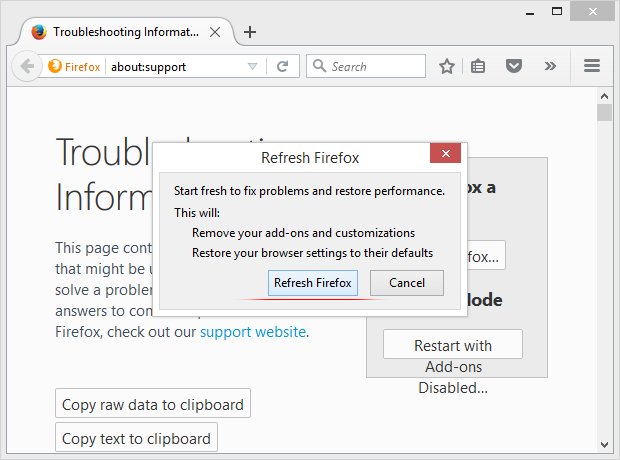 • Restart the browser.
Reset Google Chrome
• Open Chrome, click the icon for Chrome menu and choose Settings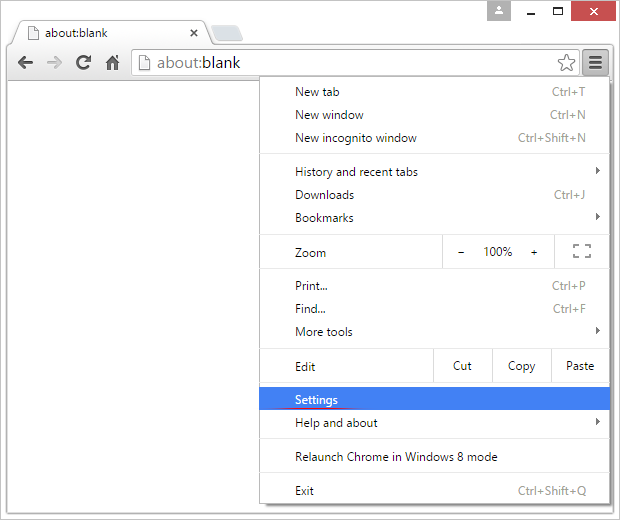 • Scroll down the settings screen and click Show advanced settings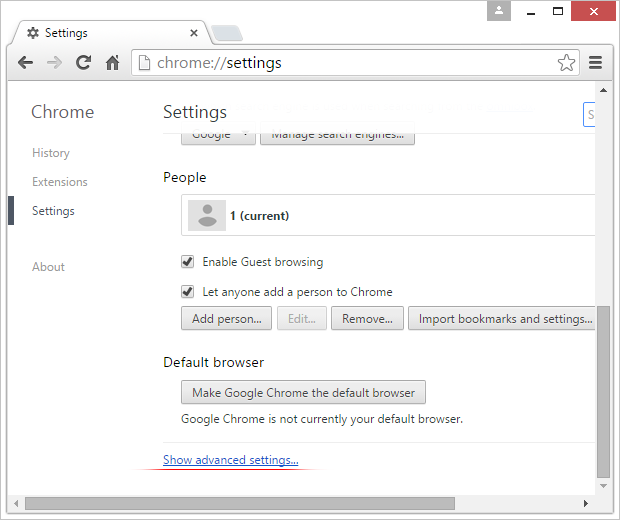 • Click Reset settings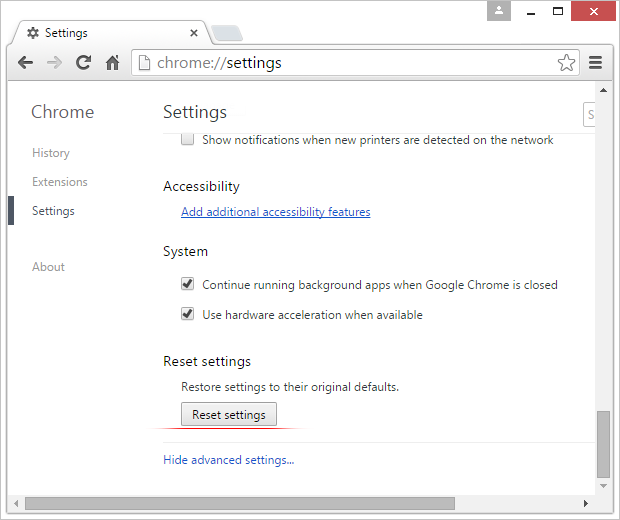 • Finally, confirm the restoration by clicking Reset on the warning message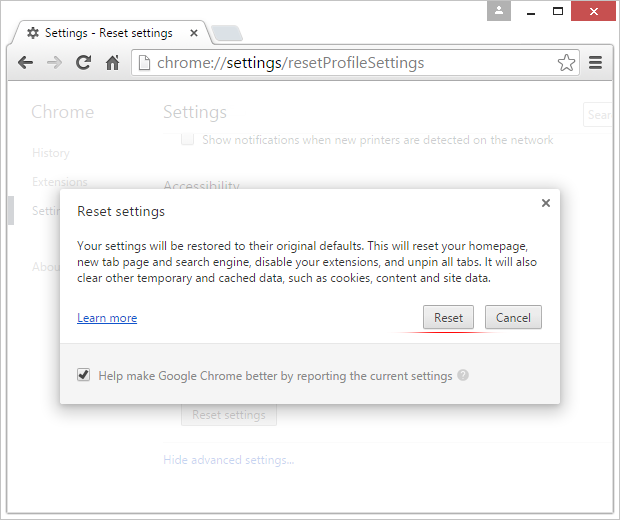 • Restart Chrome.
Reset Internet Explorer
• Select Internet options under IE's Tools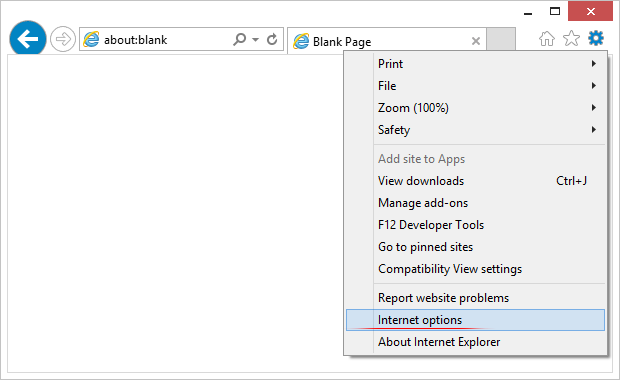 • Proceed by clicking on Advanced tab, then select Reset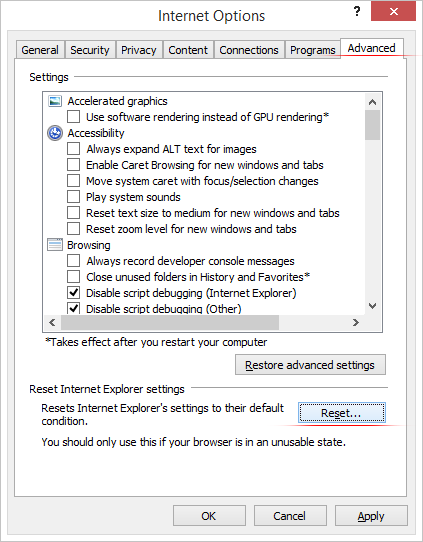 • To confirm the intended changes, click Reset on the Reset Internet Explorer Settings screen after ascertaining that the Delete personal settings checkbox is enabled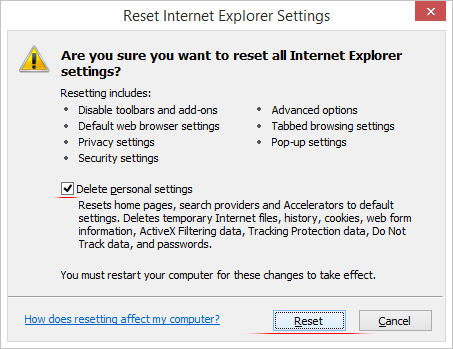 • Reboot the machine to fully implement the fix.
Reset Safari
• Go to the Safari menu and select Preferences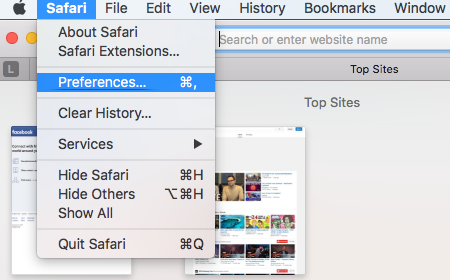 • When on the Preferences screen, select the Privacy tab and hit the Remove All Website Data button if you are up to erasing all website data stored on your Mac. Otherwise, you can use a site-specific removal option described below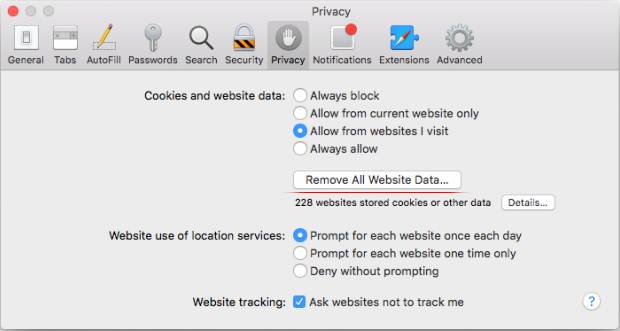 • A dialog will appear, asking you to validate your choice. Click the Remove Now button if you are sure. Be advised this will log you out of online services and undo personalized web browser settings such as saved passwords, etc.



• Safari also allows deleting data for specific sites rather than all sites in general. To use this option, click the Details button under Privacy tab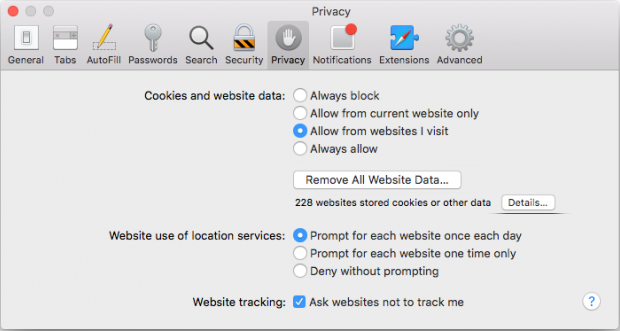 • Select the websites for which you would like to erase data and click the Remove button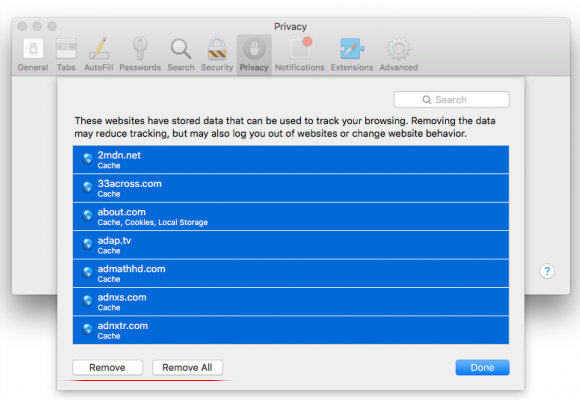 • Click the Done button to confirm and exit. You can also select the Remove All option to remove all data stored by the listed websites.
Revise your security status
Post-factum assessment of the accuracy component in malware removal scenarios is a great habit that prevents the comeback of harmful code or replication of its unattended fractions. Make sure you are good to go by running an additional safety checkup.