Find out why the KillDisk ransomware is particularly dangerous and how to go about the predicament where this infection holds all data on a computer hostage.
KillDisk demonstrates how malicious code can evolve over time. This sample used to hit the headlines as an extremely harmful threat involved in high-profile cyber-attacks against critical infrastructure. According to in-depth investigative research, it has been operated by a criminal ring dubbed Sandworm since around 2014. The affiliated Sandworm virus primarily targeted SCADA architectures of industrial systems in the United States and a number of other countries. Later on, this group of threat actors came to be referred to as TeleBots. This syndicate is believed to have fired a series of attacks against Ukrainian banks in mid-December 2016, which may be evidence of state-sponsored nature of these breaches. The KillDisk module of the TeleBots malware was aimed at deleting critical files of targeted organizations and sending sensitive data over to the criminals. In a recent move, the gang went further and incorporated ransomware routine into their offending program.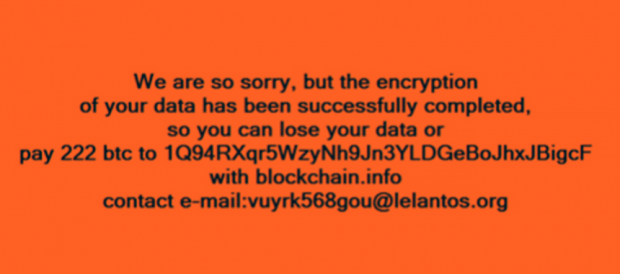 Therefore, not only does the current edition of the KillDisk malware perform industrial espionage combined with data erasure, but it also demands a ransom for restoring locked files. Interestingly, some researchers think this is primarily a distraction maneuver intended to keep a compromised organization from exposing the genuine malicious activity, that is, straightforward disruption and information theft. The cryptography-based extortion module of KillDisk now displays a warning message reading, "We are so sorry, but the encryption of your data has been successfully completed, so you can lose your data or pay 222 BTC." The ransom note also provides the attacker's contact email, which is vuyrk568gou@lelantos.org. By the way, such a whopping size of the ransom (about $212,000) cannot be encountered with other ransomware strains, most of which demand a maximum of 1.5-2 Bitcoin ($1.400-$1.900).
KillDisk leverages an extremely strong crypto to deny access to a breached organization's proprietary data. It generates a unique AES (Advanced Encryption Standard) key for every single file. Moreover, it then encodes these keys using asymmetric RSA-1028 cryptosystem. Considering the nastiness of this perpetrating software, companies should adopt effective measures to prevent it from attacking their networks. Since KillDisk has been reportedly proliferating through malicious email attachments, employees should never open ones that look suspicious. Also, the right plan B in case of the attack involves regular data backups. The instructions below will complement the incident response plan.
KillDisk ransomware automated removal and data recovery
Owing to an up-to-date database of malware signatures and intelligent behavioral detection, the recommended software can quickly locate the infection, eradicate it and remediate all harmful changes. So go ahead and do the following:
1. Download and install the antimalware tool. Open the solution and have it check your PC for PUPs and other types of malicious software by clicking the Start Computer Scan button
2. Rest assured the scan report will list all items that may harm your operating system. Select the detected entries and click Fix Threats to get the troubleshooting completed.
Data recovery toolkit to the rescue
Some strains of ransomware are known to delete the original files after the encryption routine has been completed. As hostile as this activity appears, it can play into your hands. There are applications designed to revive the information that was obliterated because of malfunctioning hardware or due to accidental removal. The tool called Data Recovery Pro by ParetoLogic features this type of capability therefore it can be applied in ransom attack scenarios to at least get the most important files back. So download and install the program, run a scan and let it do its job.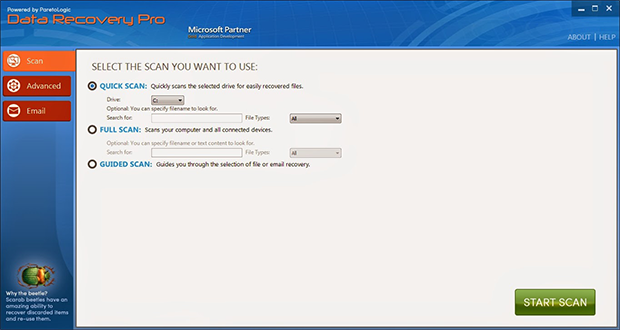 KillDisk ransomware manual removal and file recovery
Some ransomware strains terminate themselves after completing the encryption job on a computer, but some don't. Furthermore, the KillDisk virus may prevent victims from using popular antimalware tools in order to stay on board for as long as possible. Under the circumstances, it may be necessary to utilize the Safe Mode with Networking or System Restore functionality.
Be advised that even after the ransomware is removed, files will still be encrypted and inaccessible. The malicious code cleanup part, however, is important because it keeps a relapse of the infection from occurring further on and eliminates all opportunistic malware.
Ways of non-ransom recovery of encrypted files
Cracking the crypto used by this ransom Trojan is more of a science fiction thing rather than an attainable prospect for the masses. This is why the troubleshooting in predicaments of this sort is a matter of two approaches: one is to pay the ransom, which isn't an option for many victims; and the other is to apply instruments that take advantage of the ransomware's possible weaknesses. If the latter is your pick, the advice below is a must-try.
Ransomware Prevention Tips
To avoid KillDisk ransomware and other file-encrypting infections in the future, follow several simple recommendations:
Toggle your email provider's anti-spam settings to filter out all the potentially harmful incoming messages. Raising the bar beyond the default protection is an important countermeasure for ransom Trojans.
Define specific file extension restrictions in your email system. Make sure that attachments with the following extensions are blacklisted: .js, .vbs, .docm, .hta, .exe, .cmd, .scr, and .bat. Also, treat ZIP archives in received messages with extreme caution.
Rename the vssadmin.exe process so that ransomware is unable to obliterate all Shadow Volume Copies of your files in one shot.
Keep your Firewall active at all times. It can prevent crypto ransomware from communicating with its C&C server. This way, the threat won't be able to obtain cryptographic keys and lock your files.
Back up your files regularly, at least the most important ones. This recommendation is self-explanatory. A ransomware attack isn't an issue as long as you keep unaffected copies of your data in a safe place.
Use an effective antimalware suite. There are security tools that identify ransomware-specific behavior and block the infection before it can do any harm.
These techniques are certainly not a cure-all, but they will add an extra layer of ransomware protection to your security setup.
Revise your security status
Post-factum assessment of the accuracy component in malware removal scenarios is a great habit that prevents the comeback of harmful code or replication of its unattended fractions. Make sure you are good to go by running an additional safety checkup.