Cerber ransomware keeps showing its ugly fangs as its latest variant goes live, which creates HTA and JPG _HELP_HELP_HELP ransom notes on infected computers.
Ransomware updates are a normal phenomenon in this sector of extortion-centered cybercrime. Old samples get refreshed regularly to be an ever-moving target for researchers and get anti-detection enhancements. In a predictable move, the authors of the Cerber ransomware have recently released a new edition of their nasty program. The tweak has brought about a couple of changes. First off, the infection now provides decryption steps through a new combo of ransom manuals. These include the following files: _HELP_HELP_HELP_[random_8_chars].hta and _HELP_HELP_HELP_[random_8_chars].jpg. Furthermore, Cerber does not bring its version number out in the open anymore, as opposed to its predecessors that indicated this information right on the desktop wallpaper.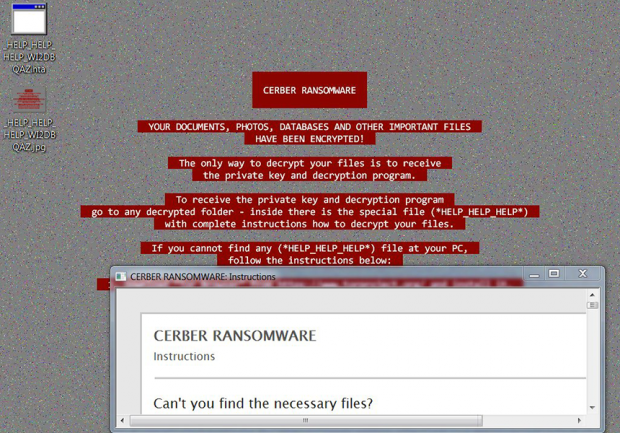 Other than these modifications, the malicious code in question is still the same old Cerber. It is being distributed via two different techniques. One of these boils down to spam campaigns that deliver contagious Word files in ZIP archives. These objects are attached to emails impersonating business partners, Internet service providers or even government organizations. If a would-be victim gets curious enough to explore what this enclosed document is about and opens it, the file turns out blank or displays unintelligible content. To correct this, the user is prompted to enable macros, which pose an attack vector widely used by ransomware peddlers. What happens next is the associated VBScript downloads and installs the infection.
Another method of contaminating computers relies on exploit kits. This technique isn't as straightforward as the spam route. When surfing the web, users may visit a compromised site that contains what's called the pseudo-Darkleech script. This code reroutes the traffic to a page hosting the Rig-V EK (exploit kit), which in its turn finds and exploits a known software vulnerability on the targeted workstation. This way, the HELP_HELP_HELP variant of Cerber is executed on the system without raising any red flags.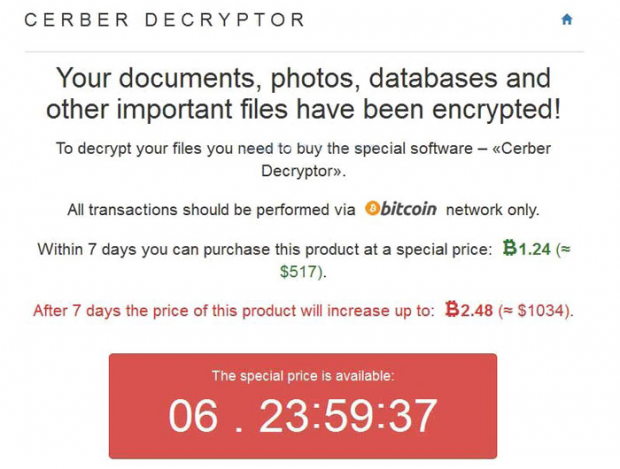 The subsequent workflow of the attack is what security analysts are quite familiar with. Cerber deploys a massive data lookup on the infected machine's hard drive as well as network shares and removable media that's currently plugged in. During this scan, it searches for files that are likely to matter the most to the victim. In particular, these are various sorts of personal documents, objects stored in different graphical formats, video files, databases and the like. The pest is driven by the extension hallmark when performing this traversal.
When the full list of these matching items is ready, the ransomware makes them inaccessible. It implements the AES cryptographic algorithm immaculately, therefore there is negligible probability that brute-forcing of the secret decryption key will help. Every filename undergoes an alteration during this process. The malady turns them into arrays of 10 hexadecimal characters, which are appended with a victim-specific extension consisting of 4 characters. So it's impossible to even work out what exactly has been scrambled on the PC.
To lend victims a "helping hand" in terms of recovery, the ransom Trojan adds the aforementioned help files to the desktop and all directories with affected data. According to these _HELP_HELP_HELP_[random_8_chars].hta/jpg files, the user will have to install Tor Browser and use it to visit a specific gateway called the Cerber Decryptor page. This service provides the amount of Bitcoin to pay for the decryption key, the destination BTC wallet address, and the deadline for doing it. This is certainly a disgusting deal, so it's advised that victims try everything else first. If there are no data backups, the workarounds that may help include the use of specially crafted recovery software as well as tools that restore previous versions of encoded files.
HELP_HELP_HELP ransomware automated removal and data recovery
Owing to an up-to-date database of malware signatures and intelligent behavioral detection, the recommended software can quickly locate the infection, eradicate it and remediate all harmful changes. So go ahead and do the following:
1. Download and install the antimalware tool. Open the solution and have it check your PC for PUPs and other types of malicious software by clicking the Start Computer Scan button
2. Rest assured the scan report will list all items that may harm your operating system. Select the detected entries and click Fix Threats to get the troubleshooting completed.
Data recovery toolkit to the rescue
Some strains of ransomware are known to delete the original files after the encryption routine has been completed. As hostile as this activity appears, it can play into your hands. There are applications designed to revive the information that was obliterated because of malfunctioning hardware or due to accidental removal. The tool called Data Recovery Pro by ParetoLogic features this type of capability therefore it can be applied in ransom attack scenarios to at least get the most important files back. So download and install the program, run a scan and let it do its job.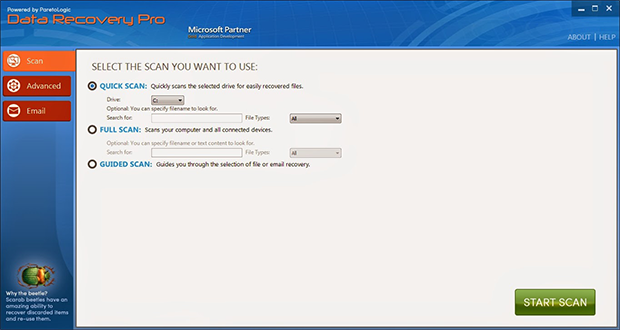 HELP_HELP_HELP ransomware manual removal and file recovery
Some ransomware strains terminate themselves after completing the encryption job on a computer, but some don't. Furthermore, the Cerber virus may prevent victims from using popular antimalware tools in order to stay on board for as long as possible. Under the circumstances, it may be necessary to utilize the Safe Mode with Networking or System Restore functionality.
Be advised that even after the ransomware is removed, files will still be encrypted and inaccessible. The malicious code cleanup part, however, is important because it keeps a relapse of the infection from occurring further on and eliminates all opportunistic malware.
Ways of non-ransom file recovery
Cracking the crypto used by this ransom Trojan is more of a science fiction thing rather than an attainable prospect for the masses. This is why the troubleshooting in predicaments of this sort is a matter of two approaches: one is to pay the ransom, which isn't an option for many victims; and the other is to apply instruments that take advantage of the ransomware's possible weaknesses. If the latter is your pick, the advice below is a must-try.
Ransomware Prevention Tips
To avoid HELP_HELP_HELP ransomware and other file-encrypting infections in the future, follow several simple recommendations:
Toggle your email provider's anti-spam settings to filter out all the potentially harmful incoming messages. Raising the bar beyond the default protection is an important countermeasure for ransom Trojans.
Define specific file extension restrictions in your email system. Make sure that attachments with the following extensions are blacklisted: .js, .vbs, .docm, .hta, .exe, .cmd, .scr, and .bat. Also, treat ZIP archives in received messages with extreme caution.
Rename the vssadmin.exe process so that ransomware is unable to obliterate all Shadow Volume Copies of your files in one shot.
Keep your Firewall active at all times. It can prevent crypto ransomware from communicating with its C&C server. This way, the threat won't be able to obtain cryptographic keys and lock your files.
Back up your files regularly, at least the most important ones. This recommendation is self-explanatory. A ransomware attack isn't an issue as long as you keep unaffected copies of your data in a safe place.
Use an effective antimalware suite. There are security tools that identify ransomware-specific behavior and block the infection before it can do any harm.
These techniques are certainly not a cure-all, but they will add an extra layer of ransomware protection to your security setup.
Revise your security status
Post-factum assessment of the accuracy component in malware removal scenarios is a great habit that prevents the comeback of harmful code or replication of its unattended fractions. Make sure you are good to go by running an additional safety checkup.