Find out which ransomware strain appends the .HakunaMatata extension to encrypted files and get useful advice on restoring the data that got locked down.
A ransomware sample that's presently in active rotation gives the phrase "hakuna matata" a completely new meaning. Instead of denoting a life with no worries, it has come to be associated with serious data accessibility problems for everybody infected. The crypto threat under consideration is called NMoreira 2.0, alias XPan or XRatTeam. The latest variant of this nasty virus affixes the .HakunaMatata extension to every single file on a contaminated computer that underwent the adverse cryptography-backed impact. For example, an original sample document named Keynote.pdf will turn into an off-limits Keynote.pdf.HakunaMatata entry. The new file extension sprinkled throughout a plagued system isn't the only symptom of this digital onslaught. The offending application also leaves ransom notes inside folders so that victims can kick off with the paid decryption routine. These entities are called "Recovers files yako.html".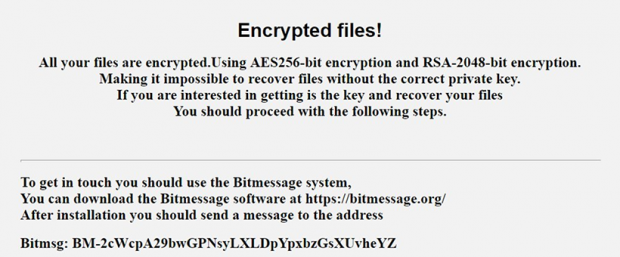 According to the instructions provided by the threat actors, recovery is a matter of submitting a certain amount of money to their Bitcoin wallet address. The warning message starts with the following phrase,
"Encrypted files! All your files are encrypted. Using AES256-bit encryption and RSA-2048-bit encryption. Making it impossible to recover files without the correct private key."
By the way, the punctuation and grammar of the alert is terrible, which suggests that the attackers aren't native English speakers. Another interesting thing about the ransom note is that the crooks instruct users to install Bitmessage, a secure instant messaging solution allowing users to send encrypted messages. This way, those infected are supposed to reach the criminals and negotiate the terms of unencrypting the ransomed personal information.
The HakunaMatata version of NMoreira malady propagates via a methodology that ransomware researchers are well familiar with. Its payload arrives with spam. Although some people may consider junk emails to be simply annoying, that's a very erroneous opinion these days. By conducting well-orchestrated spam campaigns, ransomware authors achieve their nefarious objectives with high infection rates. In the case of the HakunaMatata file virus, these rogue emails are designed as if they were from some reputable organization or government agency. However, once a recipient opens an attached file to learn more, it will stealthily fire NMoreira downloader. When inside, the crypto pest scans the local, removable and network drives in order to locate the user's important files. Then, it utilizes the above-mentioned combo of symmetric and asymmetric encryption algorithms in order to make the data inaccessible.
Security analysts were able to craft an automatic free decryptor for the previous edition of this ransom Trojan, which concatenated the .__AiraCropEncrypted! or .maktub string to mutilated files and dropped "Recupere seus arquivos. Leia-me!.txt" or "How to decrypt your files.txt" ransom note. However, the current .HakunaMatata version features enhanced crypto and has not been cracked thus far. Under the circumstances, troubleshooting boils down to recovery practices that proved to work for quite a few ransomware samples. So be sure to give the steps below a shot before considering the ransom-based method.
HakunaMatata ransomware automated removal and data recovery
Owing to an up-to-date database of malware signatures and intelligent behavioral detection, the recommended software can quickly locate the infection, eradicate it and remediate all harmful changes. So go ahead and do the following:
1. Download and install the antimalware tool. Open the solution and have it check your PC for PUPs and other types of malicious software by clicking the Start Computer Scan button
2. Rest assured the scan report will list all items that may harm your operating system. Select the detected entries and click Fix Threats to get the troubleshooting completed.
Data recovery toolkit to the rescue
Some strains of ransomware are known to delete the original files after the encryption routine has been completed. As hostile as this activity appears, it can play into your hands. There are applications designed to revive the information that was obliterated because of malfunctioning hardware or due to accidental removal. The tool called Data Recovery Pro by ParetoLogic features this type of capability therefore it can be applied in ransom attack scenarios to at least get the most important files back. So download and install the program, run a scan and let it do its job.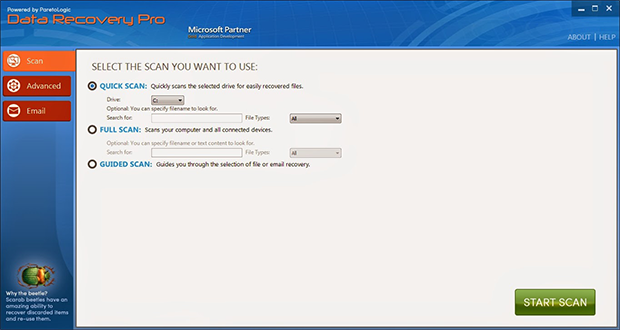 HakunaMatata ransomware manual removal and file recovery
Some ransomware strains terminate themselves after completing the encryption job on a computer, but some don't. Furthermore, the HakunaMatata virus may prevent victims from using popular antimalware tools in order to stay on board for as long as possible. Under the circumstances, it may be necessary to utilize the Safe Mode with Networking or System Restore functionality.
Be advised that even after the ransomware is removed, files will still be encrypted and inaccessible. The malicious code cleanup part, however, is important because it keeps a relapse of the infection from occurring further on and eliminates all opportunistic malware.
Ways of non-ransom recovery of .HakunaMatata files
Cracking the crypto used by this ransom Trojan is more of a science fiction thing rather than an attainable prospect for the masses. This is why the troubleshooting in predicaments of this sort is a matter of two approaches: one is to pay the ransom, which isn't an option for many victims; and the other is to apply instruments that take advantage of the ransomware's possible weaknesses. If the latter is your pick, the advice below is a must-try.
Ransomware Prevention Tips
To avoid HakunaMatata ransomware and other file-encrypting infections in the future, follow several simple recommendations:
Toggle your email provider's anti-spam settings to filter out all the potentially harmful incoming messages. Raising the bar beyond the default protection is an important countermeasure for ransom Trojans.
Define specific file extension restrictions in your email system. Make sure that attachments with the following extensions are blacklisted: .js, .vbs, .docm, .hta, .exe, .cmd, .scr, and .bat. Also, treat ZIP archives in received messages with extreme caution.
Rename the vssadmin.exe process so that ransomware is unable to obliterate all Shadow Volume Copies of your files in one shot.
Keep your Firewall active at all times. It can prevent crypto ransomware from communicating with its C&C server. This way, the threat won't be able to obtain cryptographic keys and lock your files.
Back up your files regularly, at least the most important ones. This recommendation is self-explanatory. A ransomware attack isn't an issue as long as you keep unaffected copies of your data in a safe place.
Use an effective antimalware suite. There are security tools that identify ransomware-specific behavior and block the infection before it can do any harm.
These techniques are certainly not a cure-all, but they will add an extra layer of ransomware protection to your security setup.
Revise your security status
Post-factum assessment of the accuracy component in malware removal scenarios is a great habit that prevents the comeback of harmful code or replication of its unattended fractions. Make sure you are good to go by running an additional safety checkup.