It's a good security measure to keep macros in Docm files disabled these days, because ransomwares like Locky and Zepto use them to compromise computers.
There's a sensible reason why the devs at Microsoft chose to keep macros in Office documents turned off by default. The exploitation of these VBA-based scripts is one of the popular and rising PC contamination vectors. This technique was heavily used by the distributors of Dridex, a banking Trojan that stole multiple sensitive financial records. The makers of ransomware, a type of malicious code that encrypts one's data in pursuit of a buyout from the victims, recently began harnessing macros-related vulnerabilities to deploy their offending executables on systems. To this end, they are sending out thousands of spam emails in one hit, where the attachments are files with .docm extension. When opened, these documents are configured to produce a security warning asking the user to enable macros.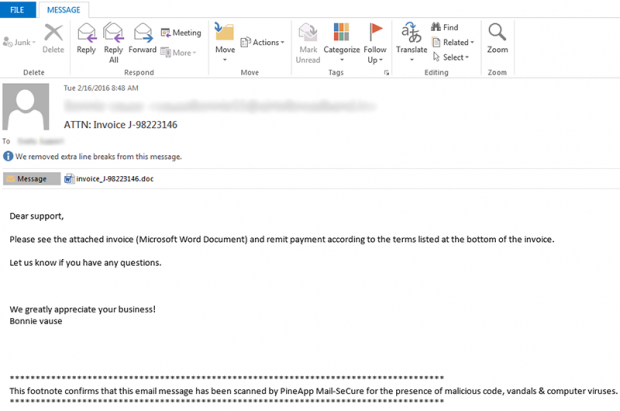 The peddlers of the ransom Trojan called Locky leveraged this methodology in the following way: the Docm file originally contained some text that looked like gobbledygook. A prompt in it said that by turning macros on the user would rectify the data encoding and thus be able to understand the content. Another sample of malicious crypto code dubbed Zepto, in its turn, does basically the same thing but displays a blank document instead, with the macros activation request popping up at the top. A big problem with these malware spreading tactics is that a lot of the phishing emails are targeted, therefore the recipients don't anticipate any issues and open them with confidence that some important documents are inside for real.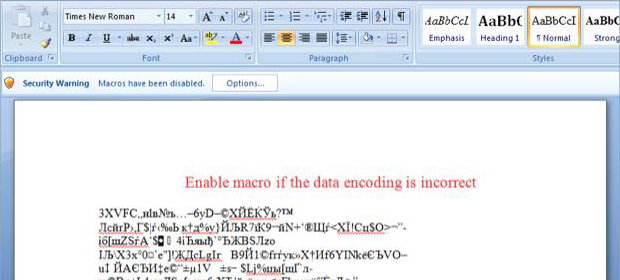 The ostensible authenticity of these spear phishing messages has got numerous users infected over the last few months. In a recent surge of breaches, the attached Docm files have been delivering the Zepto ransomware to machines. The threat actors exploit security weaknesses in Visual Basic for Applications, which is what macros are built with, to compromise computers in a stealthy fashion. The ransomware loader drops the malicious executable to the Temp path. When launched for the first time, the random named process scans all fixed drives, removable ones and network shares (both mapped and unmapped) in order to locate all the potentially valuable files.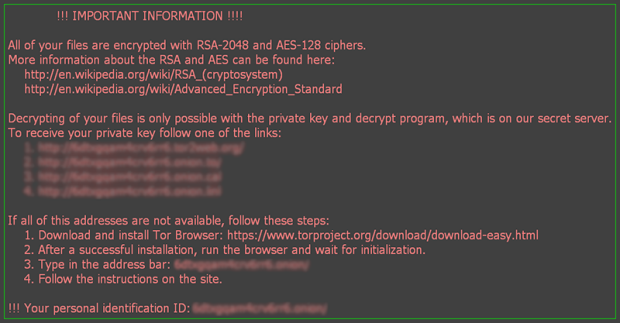 Then, the malign program applies two cryptographic algorithms, RSA-2048 and AES-128, to encrypt the detected personal data. As a result of this, every such file will be renamed to a long string of unrelated characters followed by the .zepto extension. Since the private RSA key, which is necessary for decryption, is nowhere to be found on the infected PC, the criminals can dictate their own terms. Using the documents named _HELP_instructions.html and _HELP_instructions.bmp, the extortionists explain to the victim that he or she needs to follow a special Tor link and pay 0.5 BTC (321 USD at the time of writing) on the personal decryptor page.
To avoid the Zepto virus, think twice before opening email attachments that seem odd. Also, do not enable macros in Docm files unless it's absolutely necessary. Find some further troubleshooting advice in the next section of this post.
Automated removal of Docm file virus
Owing to an up-to-date database of malware signatures and intelligent behavioral detection, the recommended software can quickly locate the infection, eradicate it and remediate all harmful changes. So go ahead and do the following:
1. Download and install the antimalware tool. Open the solution and have it check your PC for PUPs and other types of malicious software by clicking the Start Computer Scan button
2. Rest assured the scan report will list all items that may harm your operating system. Select the detected entries and click Fix Threats to get the troubleshooting completed.
Ways of non-ransom recovery of encrypted files
Cracking the crypto used by this ransom trojan is more of a science fiction thing rather than an attainable prospect for the masses. This is why the troubleshooting in predicaments of this sort is a matter of two approaches: one is to pay the ransom, which isn't an option for many victims; and the other is to apply instruments that take advantage of the ransomware's possible weaknesses. If the latter is your pick, the advice below is a must-try.
Backups can make your day
Not only are you a lucky person in case you've been backing up your most important files, but you're also a wise and prudent user. This isn't necessarily a resource-heavy activity these days – in fact, some providers of online services are allocating a sufficient size of cloud storage space for free so that every customer can easily upload their critical data without paying a penny. Having removed Zepto ransomware, therefore, all you have to do is download your stuff from the remote server or transfer it all from an external piece of hardware if that's the case.
Restore previous versions of encrypted files
A positive upshot of using this technique depends on whether or not the ransomware has erased the Volume Shadow Copies of the files on your PC. This is a Windows feature that automatically makes and keeps the backups of data elements on the hard drive as long as System Restore is enabled. The cryptoware in question is programmed to switch off the Volume Shadow Copy Service (VSS), but it has reportedly failed to in some cases. Checking one's options regarding this workaround is doable in two ways: through the Properties menu of each file or by means of the remarkable open-source tool called Shadow Explorer. We recommend the software-based way because it's automated, hence faster and easier. Just install the app and use its intuitive controls to get previous versions of the encrypted objects reinstated.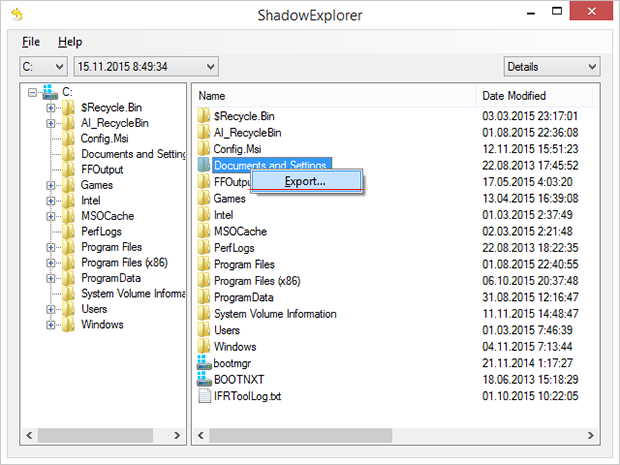 Data recovery toolkit to the rescue
Some strains of ransomware are known to delete the original files after the encryption routine has been completed. As hostile as this activity appears, it can play into your hands. There are applications designed to revive the information that was obliterated because of malfunctioning hardware or due to accidental removal. The tool called Data Recovery Pro by ParetoLogic features this type of capability therefore it can be applied in ransom attack scenarios to at least get the most important files back. So download and install the program, run a scan and let it do its job.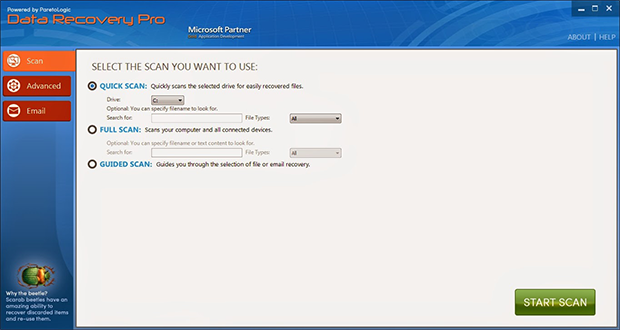 Revise your security status
Post-factum assessment of the accuracy component in malware removal scenarios is a great habit that prevents the comeback of harmful code or replication of its unattended fractions. Make sure you are good to go by running an additional safety checkup.