A massive wave of spam impersonating DHL Express has been depositing offending code onto recipients' computers, so be careful with these fake emails.
Popular international shipping services have been consistently luring online crooks as a domain for exploitation because of large customer base and the present-day emphasis on online methods of client interaction. No wonder such a giant of parcel delivery as DHL Express got into the spotlight of bad guys. In a recent spam campaign, a group of cybercriminals has been forging standard DHL notifications in a bid to get users infected with malware. The majority of these rogue messages are currently circulating in Germany and the Netherlands, although people in other states have been reportedly affected as well. The idea is to misinform users about the status of inexistent delivery, which is the hook that may be of interest to many recipients. The subject of these counterfeit emails can be "Your parcel has arrived at the post office", "Ihr Paket ist auf dem weg" (German for "Your package is on its way), "Pakket gemist" ("Package missed" in Dutch).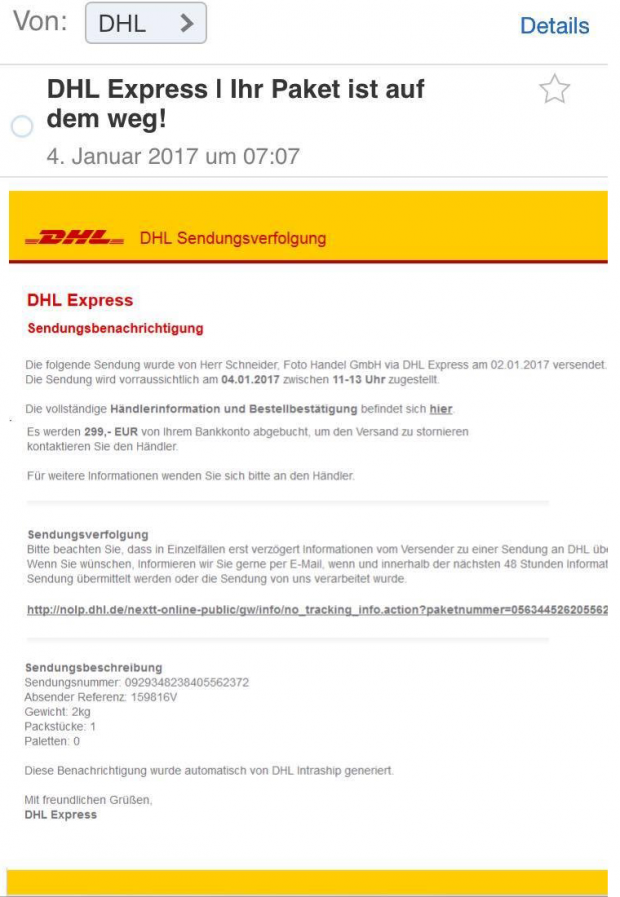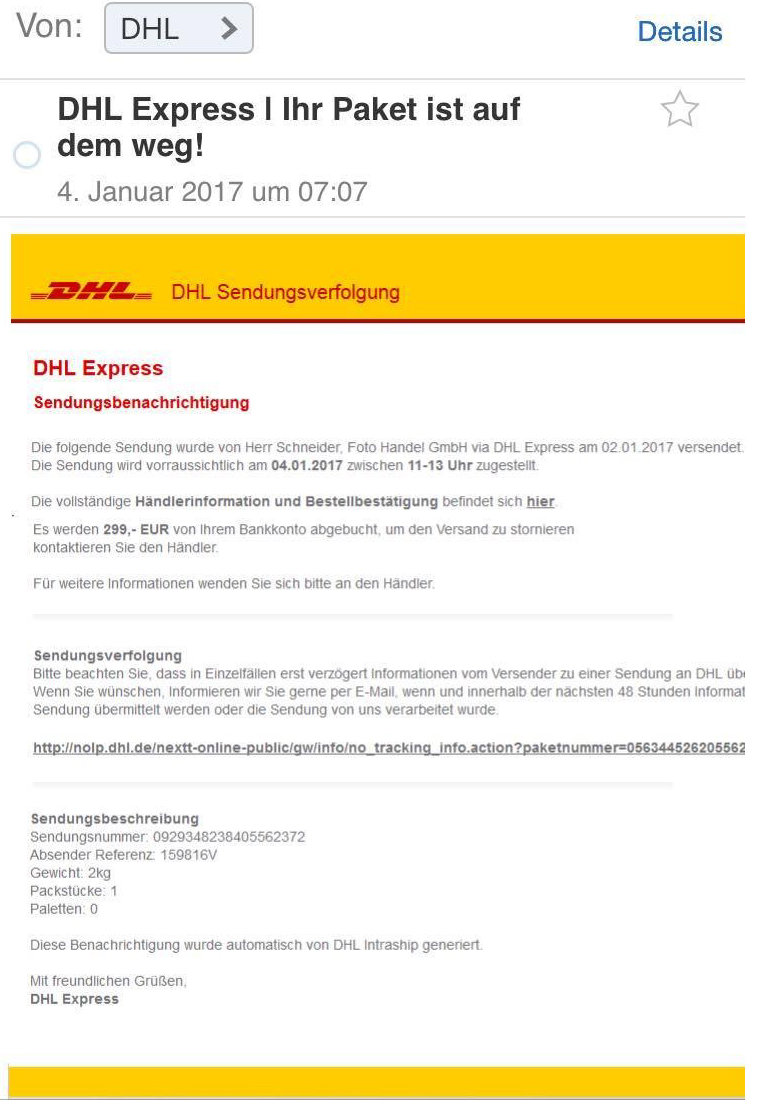 The format of these bogus DHL emails conforms to the company's standard notifications, with such attributes as the logo, coloring, and signature. Moreover, the would-be victims will see such technicalities as the tracking number or their shipment, the weight of the package, and the number of items in it. The amount of money to be withdrawn from the person's bank account is yet another catch. By providing all of these details, the scammers try to make the email appear true to life and encourage the user to follow the tricky recommendations. In particular, victims run the risk of clicking on an embedded link that allegedly resolves the DHL tracking page or the confirmation of the parcel sending transaction. This is the worst possible thing to do, though. The URL actually downloads a booby-trapped ZIP archive. This archive contains a file with the .js extension, which denotes the JavaScript format. These types of objects have gained notoriety for distributing malicious software, because they can covertly download additional components onto a target computer once executed. For instance, the infection can be the JS/Nemucod virus, which will promote file-encrypting ransomware.
Given these facts, when an email from DHL Express is received, be sure to treat it with a reasonable degree of paranoia. Scrutinize the details of the notification and think twice before clicking any links in it. In case the malicious item is already inside, follow the instructions below to identify the threat and eradicate it from the machine.
Scan your PC for DHL email scam related viruses
The links in rogue DHL emails may point to drive-by downloads and exploit kits. To ascertain that no malware ended up inside your computer this way, consider checking it for all types of infections. The recommended software can quickly locate threats, eradicate them and remediate all harmful changes. So go ahead and do the following:
1. Download and install the antimalware tool. Open the solution and have it check your PC for all strains of malicious software by clicking the Start Computer Scan button
2. Rest assured the scan report will list all items that may harm your operating system. Select the detected entries and click Fix Threats to get the troubleshooting completed.