Get up-to-date technical details of the CTB Locker ransomware and learn a methodology that may help restore .ctb or .ctb2 extension files locked by the Trojan.
CTB Locker is among the oldest strains of file-encrypting ransomware. Discovered in late July 2014, it is still alive and kicking now in 2017. Furthermore, this pest has evolved over time, featuring increasingly robust encryption practices, flawless victim interaction routine and bulletproof Command and Control infrastructure. It has also spawned a slew of different editions, including a unique web server version that compromises sites and holds their content for ransom. The name is actually an acronym denoting "Curve-Tor-Bitcoin Locker", which per se explains quite a bit about the essence of this infection. The ransom Trojan uses elliptic curve cryptography (ECC) to deny access to a victim's data. The threat actors secure all of their connections with infected machines by leveraging The Onion Router, or Tor, technology. And finally, all ransoms are payable exclusively in Bitcoin, the cryptocurrency ensuring negligible likelihood of tracking the crooks down.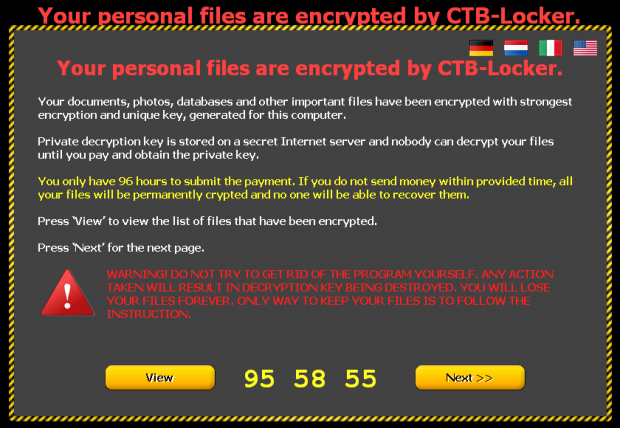 The CTB Locker variant currently in rotation targets file types that are the most valuable for an infected user. The fundamental criterion for implementing this data lookup on a computer and narrowing down the depth of the scan is all about file extensions. For instance, the ransomware will locate all .docx, .xlsx, .pptx and other personal documents stored in one of the most popular file formats. Meanwhile, it will skip .exe objects that may be critical system processes. This is a clever approach that reduces the time and resources required to find sensitive information while keeping the machine running stable. Aside from documents, spreadsheets and presentations, the offending code also zeroes in on different graphical entries that denote a victim's personal photos and other images; it also spots videos, databases, PDF items and dozens more file formats. What happens next is the plague applies the above-mentioned ECC crypto to encode the objects that it found in the course of the stealth scan. While filenames proper remain intact, they all get appended with the .ctb or .ctb2 extension, depending on the specific edition of the ransomware.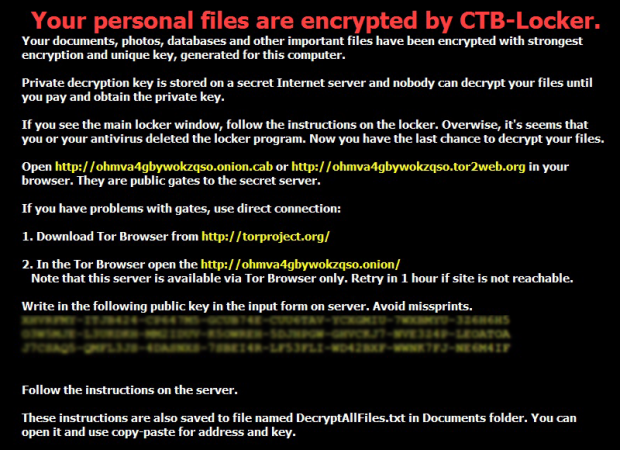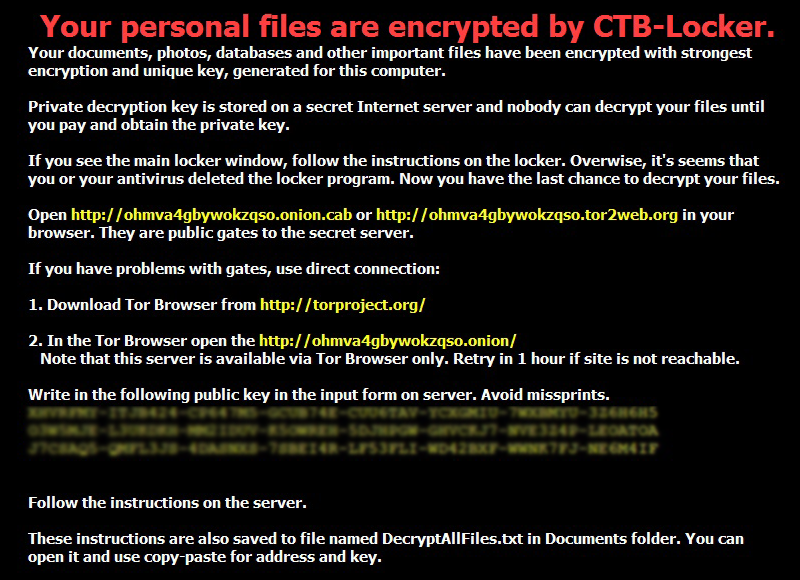 At this point, CTB Locker is only half-way through with its onslaught. Obviously, the ransomware operators have no motivation other than profit. So the infection creates several files whose purpose is to provide victims with an avenue for recovery. One of these is an image called AllFilesAreLocked.bmp, which is configured to replace the original desktop wallpaper. The warning part on this background goes, "Your personal files are encrypted by CTB-Locker. Your documents, photos, databases and other important files have been encrypted with strongest encryption and unique key, generated for this computer." The walkthrough also contains the victim's personal Tor URL to visit the secret server, as well as the public key that consists of multiple hexadecimal characters. One more edition of the ransom manual called DecryptAllFiles.txt contains the same instructions. Additionally, the Trojan drops a copy in HTML format, where the filename is composed of seven random digits.
CTB Locker also displays an interactive pane with clickable Next button and the View option allowing the victim to see the full list of files that have been encrypted on the machine. The interface also shows a timer that keeps the user informed of the amount of time left before the ransom increases. The original span is 96 hours. The latest variant of the perpetrating program goes equipped with an option of decrypting up to 5 random files for free, but this functionality is buggy and doesn't always work. No matter how hard one may try to go the crypto cracking route for restoring the scrambled data, it's all going to be futile because the algorithm is too strong. Be advised, though, that a copycat ransomware referred to as CTB Faker is currently in the wild. It pretends to be CTB Locker but moves data to a password-protected archive rather than actually encode it. Fortunately, it may be possible to reinstate .ctb or .ctb2 files affected by the genuine infection through alternate methods.
CTB Locker ransomware automated removal and data recovery
Owing to an up-to-date database of malware signatures and intelligent behavioral detection, the recommended software can quickly locate the infection, eradicate it and remediate all harmful changes. So go ahead and do the following:
1. Download and install the antimalware tool. Open the solution and have it check your PC for PUPs and other types of malicious software by clicking the Start Computer Scan button
2. Rest assured the scan report will list all items that may harm your operating system. Select the detected entries and click Fix Threats to get the troubleshooting completed.
Data recovery toolkit to the rescue
Some strains of ransomware are known to delete the original files after the encryption routine has been completed. As hostile as this activity appears, it can play into your hands. There are applications designed to revive the information that was obliterated because of malfunctioning hardware or due to accidental removal. The tool called Data Recovery Pro by ParetoLogic features this type of capability therefore it can be applied in ransom attack scenarios to at least get the most important files back. So download and install the program, run a scan and let it do its job.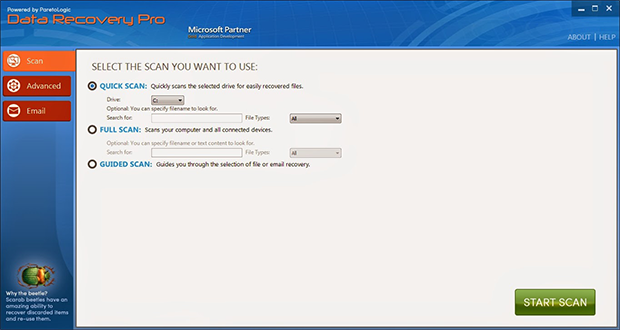 CTB Locker ransomware manual removal and file recovery
Some ransomware strains terminate themselves after completing the encryption job on a computer, but some don't. Furthermore, the CTB Locker virus may prevent victims from using popular antimalware tools in order to stay on board for as long as possible. Under the circumstances, it may be necessary to utilize the Safe Mode with Networking or System Restore functionality.
Be advised that even after the ransomware is removed, files will still be encrypted and inaccessible. The malicious code cleanup part, however, is important because it keeps a relapse of the infection from occurring further on and eliminates all opportunistic malware.
Ways of non-ransom recovery of .ctb / .ctb2 files
Cracking the crypto used by this ransom Trojan is more of a science fiction thing rather than an attainable prospect for the masses. This is why the troubleshooting in predicaments of this sort is a matter of two approaches: one is to pay the ransom, which isn't an option for many victims; and the other is to apply instruments that take advantage of the ransomware's possible weaknesses. If the latter is your pick, the advice below is a must-try.
Ransomware Prevention Tips
To avoid CTB Locker ransomware and other file-encrypting infections in the future, follow several simple recommendations:
Toggle your email provider's anti-spam settings to filter out all the potentially harmful incoming messages. Raising the bar beyond the default protection is an important countermeasure for ransom Trojans.
Define specific file extension restrictions in your email system. Make sure that attachments with the following extensions are blacklisted: .js, .vbs, .docm, .hta, .exe, .cmd, .scr, and .bat. Also, treat ZIP archives in received messages with extreme caution.
Rename the vssadmin.exe process so that ransomware is unable to obliterate all Shadow Volume Copies of your files in one shot.
Keep your Firewall active at all times. It can prevent crypto ransomware from communicating with its C&C server. This way, the threat won't be able to obtain cryptographic keys and lock your files.
Back up your files regularly, at least the most important ones. This recommendation is self-explanatory. A ransomware attack isn't an issue as long as you keep unaffected copies of your data in a safe place.
Use an effective antimalware suite. There are security tools that identify ransomware-specific behavior and block the infection before it can do any harm.
These techniques are certainly not a cure-all, but they will add an extra layer of ransomware protection to your security setup.
Revise your security status
Post-factum assessment of the accuracy component in malware removal scenarios is a great habit that prevents the comeback of harmful code or replication of its unattended fractions. Make sure you are good to go by running an additional safety checkup.