Being infected with the Cryakl ransomware is a serious predicament as most of its variants are uncrackable due to threat actors' robust operations security.
Some ransomware strands can boast sleek design of GUIs and full automation of the extortion chain. Others look crude and even primitive. Although it may seem that pests representing the latter cluster are easy to get around, this impression doesn't necessarily hold true for all such samples. The Cryakl family of malicious file-encrypting programs proves how delusive the look and feel of a ransomware specimen can be. All the numerous iterations of this lineage lack victim interaction components. The only clue on how to restore data is explicated in the desktop background that automatically replaces the one set by the user.
By the way, this particular attribute suggests that Cryakl mostly targets Russian-speaking audience as it contains Russian text. The English translation of the message is as follows,
Your files are encrypted, if you want to get them all back, send 1 encrypted file to the following email address: Seven_Legion2@aol.com. ATTENTION!!! You only have 1 week to email me, after this period expires the decryption will become impossible!!!!
The email address in this message varies depending on a specific campaign. Aside from the one above, some of the widely reported emails include drakoshka@yahoo.com, drakosha_new@aol.com, load180@aol.com, abu.khan@india.com, besdecrypt@qq.com, graf_demalfet@aol.com, mk-kitana@aol.com, mserbinov@aol.com, ninja.gaiver@aol.com, scasiva@aol.com, igor_svetlov2@aol.com, cryptolocker@aol.com, eric.decoder10@gmail.com, and ivanivanov34@aol.com. There are many more in fact.
Cryakl ransomware is distributed via exploit kits and spam. The former deployment method is sneaky as victims get infected without opening any malicious files. All it takes to get hit is visit a hacked website containing a script that detects and harnesses vulnerabilities in software installed on the computer. When inside, the Trojan runs in offline mode, which significantly tangles decryption beyond ransom. The hurdle is that the offensive program doesn't exchange cryptographic RSA keys with any server, so it's impossible to intercept any such details to further use for decryption.
While affecting the victim's important data, Cryakl replaces filenames with long gibberish strings, making it unfeasible to work out which specific files they match. The file renaming format is as follows: email-[email_address].ver-[ransomware_version].id-[victim_ID]-[attack_timestamp].randomname-[random_chars].[random_extension]. The extension in the above pattern varies and tends to be a three-character string, for example .mcu, .fgg, .GHI, etc. The reason why the attackers instruct victims to send them one encrypted file is clear – the modified filenames hold the entirety of metadata that allow the criminals to tell one victim from another.
In addition to the desktop background warning, the infection also creates ransom notes named README.txt. This how-to isn't very verbose, to put it mildly. All it says is, "To decrypt files write to this mail [email_address]". At the end of the day, file recovery is a matter of choice: to pay the ransom and hope to get the decryption program and private RSA key in return, or first try every applicable option to get the data back without giving in to the felons' demands. The rest of this post focuses on the latter approach.
Cryakl ransomware automated removal and data recovery
Owing to an up-to-date database of malware signatures and intelligent behavioral detection, the recommended software can quickly locate the infection, eradicate it and remediate all harmful changes. So go ahead and do the following:
1. Download and install the antimalware tool. Open the solution and have it check your PC for PUPs and other types of malicious software by clicking the Start Computer Scan button
2. Rest assured the scan report will list all items that may harm your operating system. Select the detected entries and click Fix Threats to get the troubleshooting completed.
Data recovery toolkit to the rescue
Some strains of ransomware are known to delete the original files after the encryption routine has been completed. As hostile as this activity appears, it can play into your hands. There are applications designed to revive the information that was obliterated because of malfunctioning hardware or due to accidental removal. The tool called Data Recovery Pro by ParetoLogic features this type of capability therefore it can be applied in ransom attack scenarios to at least get the most important files back. So download and install the program, run a scan and let it do its job.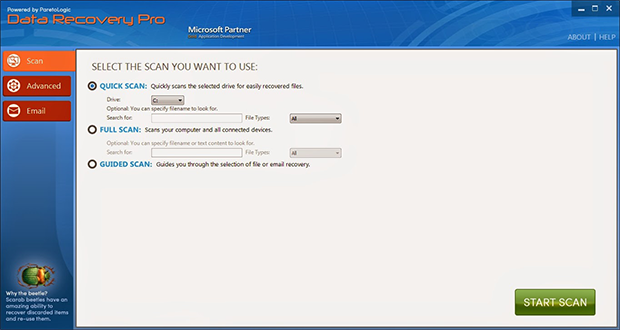 Cryakl ransomware manual removal and file recovery
Some ransomware strains terminate themselves after completing the encryption job on a computer, but some don't. Furthermore, the Cryakl virus may prevent victims from using popular antimalware tools in order to stay on board for as long as possible. Under the circumstances, it may be necessary to utilize the Safe Mode with Networking or System Restore functionality.
Be advised that even after the ransomware is removed, files will still be encrypted and inaccessible. The malicious code cleanup part, however, is important because it keeps a relapse of the infection from occurring further on and eliminates all opportunistic malware.
Ways of non-ransom recovery of files encrypted by Cryakl
Cracking the crypto used by this ransom Trojan is more of a science fiction thing rather than an attainable prospect for the masses. This is why the troubleshooting in predicaments of this sort is a matter of two approaches: one is to pay the ransom, which isn't an option for many victims; and the other is to apply instruments that take advantage of the ransomware's possible weaknesses. If the latter is your pick, the advice below is a must-try.
Ransomware Prevention Tips
To avoid Cryakl ransomware and other file-encrypting infections in the future, follow several simple recommendations:
Toggle your email provider's anti-spam settings to filter out all the potentially harmful incoming messages. Raising the bar beyond the default protection is an important countermeasure for ransom Trojans.
Define specific file extension restrictions in your email system. Make sure that attachments with the following extensions are blacklisted: .js, .vbs, .docm, .hta, .exe, .cmd, .scr, and .bat. Also, treat ZIP archives in received messages with extreme caution.
Rename the vssadmin.exe process so that ransomware is unable to obliterate all Shadow Volume Copies of your files in one shot.
Keep your Firewall active at all times. It can prevent crypto ransomware from communicating with its C&C server. This way, the threat won't be able to obtain cryptographic keys and lock your files.
Back up your files regularly, at least the most important ones. This recommendation is self-explanatory. A ransomware attack isn't an issue as long as you keep unaffected copies of your data in a safe place.
Use an effective antimalware suite. There are security tools that identify ransomware-specific behavior and block the infection before it can do any harm.
These techniques are certainly not a cure-all, but they will add an extra layer of ransomware protection to your security setup.
Revise your security status
Post-factum assessment of the accuracy component in malware removal scenarios is a great habit that prevents the comeback of harmful code or replication of its unattended fractions. Make sure you are good to go by running an additional safety checkup.