A new edition of the GandCrab ransomware is out that appends the .CRAB extension to hostage files and drops CRAB-DECRYPT.txt ransom note, so get details here.
GandCrab is one of the rare competently crafted ransomware strains that have popped up lately, which explains the significant amount of media coverage regarding its shenanigans. The threat actors at the helm of this well-orchestrated extortion wave lost some C2 servers over a law enforcement action in Romania. This allowed security experts to create a free decryption tool for the original variant of the culprit. A week later, though, the crooks launched a new edition of GandCrab, demonstrating that their filthy business is moving on regardless. The updated infection underwent a number of changes. First off, it adds the .CRAB extension to every encrypted file. Secondly, the name of the ransom note has become CRAB-DECRYPT.txt.
Whereas the previous mod kicked off with exploit kits-backed propagation, GandCrab v2 is predominantly distributed via spam emanating from the infamous Necurs botnet. The carriers of the payload are booby-trapped email attachments, typically rogue invoices, which come in the form of obfuscated JavaScript files. A new well-orchestrated distribution campaign took root in early April 2018, zeroing in on organizations in the Korean financial sector. The spam emails pretend to be related to some copyright law issues and go with an .egg file attachment, which designates a compressed archive format whose usage is mostly isolated to Asian countries. The archive contains a malicious binary inside that executes the infection once opened. The targeted essence of this malspam wave points to the fact that the GandCrab crew has matured in terms of their despicable tactics.
Another entry point is via the so-called EITest trickery, where users catch the baddie when visiting compromised websites. In the latter scenario, would-be victims bump into deceptive alerts stating that the "HoeflerText" font wasn't found and download a pseudo updated that's actually the ransomware.
Having crept into a new host, the .CRAB file variant of the GandCrab ransomware runs a massive scan for potentially valuable data. It's got a built-in list of file formats to look for, so it's a matter of several minutes for the pest to find all personal documents, photos, videos, databases and the like. The locations being traversed include hard drive partitions, removable media and network drives. Every single object that matches the blackmail malware's criteria then gets encrypted with RSA, a strong asymmetric cipher that's uncrackable unless the private decryption key is at one's disposal. A part of the file tweaking process is the concatenation of the .CRAB suffix to each ransomed entry, so a picture named, say, 1.bmp will turn into 1.bmp.CRAB.
As mentioned above, the ransom note that the revamped Trojan generates has changed as well. Its name is CRAB-DECRYPT.txt, and it additionally includes a new recommendation regarding the use of the qTox messenger for victims living in countries where Tor is blocked. The GandCrab payment page referenced in the rescue note looks different than its predecessor. The gist, though, is basically the same – it instructs victims to submit 400 USD worth of Dash cryptocurrency to the attacker's wallet. By coughing up the ransom, users run the risk of losing both the money and the data, because cybercriminals aren't trustworthy partners to deal with. So, before even considering this option, try a couple of workarounds covered in the following sections.
.CRAB file ransomware (GandCrab) automated removal and data recovery
Owing to an up-to-date database of malware signatures and intelligent behavioral detection, the recommended software can quickly locate the infection, eradicate it and remediate all harmful changes. So go ahead and do the following:
1. Download and install the antimalware tool. Open the solution and have it check your PC for PUPs and other types of malicious software by clicking the Start Computer Scan button
2. Rest assured the scan report will list all items that may harm your operating system. Select the detected entries and click Fix Threats to get the troubleshooting completed.
Data recovery toolkit to the rescue
Some strains of ransomware are known to delete the original files after the encryption routine has been completed. As hostile as this activity appears, it can play into your hands. There are applications designed to revive the information that was obliterated because of malfunctioning hardware or due to accidental removal. The tool called Data Recovery Pro by ParetoLogic features this type of capability therefore it can be applied in ransom attack scenarios to at least get the most important files back. So download and install the program, run a scan and let it do its job.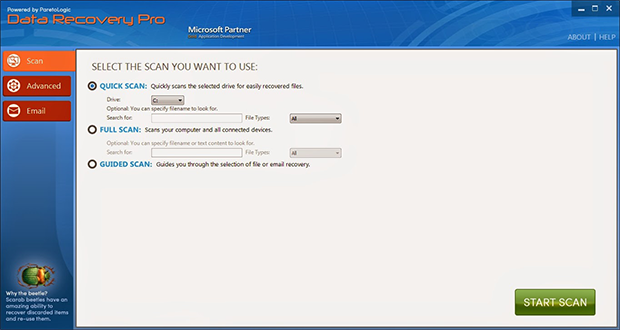 .CRAB file virus manual removal and file recovery
Some ransomware strains terminate themselves after completing the encryption job on a computer, but some don't. Furthermore, the GandCrab (.CRAB extension) blackmail virus may prevent victims from using popular antimalware tools in order to stay on board for as long as possible. Under the circumstances, it may be necessary to utilize the Safe Mode with Networking or System Restore functionality.
Be advised that even after the ransomware is removed, files will still be encrypted and inaccessible. The malicious code cleanup part, however, is important because it keeps a relapse of the infection from occurring further on and eliminates all opportunistic malware.
Ways of non-ransom recovery of .CRAB files
Cracking the crypto used by this ransom Trojan is more of a science fiction thing rather than an attainable prospect for the masses. This is why the troubleshooting in predicaments of this sort is a matter of two approaches: one is to pay the ransom, which isn't an option for many victims; and the other is to apply instruments that take advantage of the ransomware's possible weaknesses. If the latter is your pick, the advice below is a must-try.
Ransomware Prevention Tips
To avoid the GandCrab (.CRAB file extension) ransomware and other file-encrypting infections in the future, follow several simple recommendations:
Toggle your email provider's anti-spam settings to filter out all the potentially harmful incoming messages. Raising the bar beyond the default protection is an important countermeasure for ransom Trojans.
Define specific file extension restrictions in your email system. Make sure that attachments with the following extensions are blacklisted: .js, .vbs, .docm, .hta, .exe, .cmd, .scr, and .bat. Also, treat ZIP archives in received messages with extreme caution.
Rename the vssadmin.exe process so that ransomware is unable to obliterate all Shadow Volume Copies of your files in one shot.
Keep your Firewall active at all times. It can prevent crypto ransomware from communicating with its C&C server. This way, the threat won't be able to obtain cryptographic keys and lock your files.
Back up your files regularly, at least the most important ones. This recommendation is self-explanatory. A ransomware attack isn't an issue as long as you keep unaffected copies of your data in a safe place.
Use an effective antimalware suite. There are security tools that identify ransomware-specific behavior and block the infection before it can do any harm.
These techniques are certainly not a cure-all, but they will add an extra layer of ransomware protection to your security setup.
Revise your security status
Post-factum assessment of the accuracy component in malware removal scenarios is a great habit that prevents the comeback of harmful code or replication of its unattended fractions. Make sure you are good to go by running an additional safety checkup.