It's unwise to underestimate the issue of ads by Counterflix appearing on different websites, because they are a symptom of an adware infection on a computer.
The fundamentals of e-advertising boil down to the display of sponsored content without causing frustration to end users. It looks like this equilibrium is not Counterflix app authors' first priority, to say the least. While the piece of software in question does serve targeted advertisements, the annoyance aspect is a mess. Besides, as opposed to the regular online marketing routine, ads by Counterflix originate on the level of a specific computer. So it's not website owners to blame – the problem lies entirely in the security domain. First, a user gets infected with the adware; then, a number of changes are made to DNS settings and web browsers without the admin's consent; and finally, the intruder stuffs up all visited web pages with a bevy of third-party artifacts containing product descriptions and price comparisons.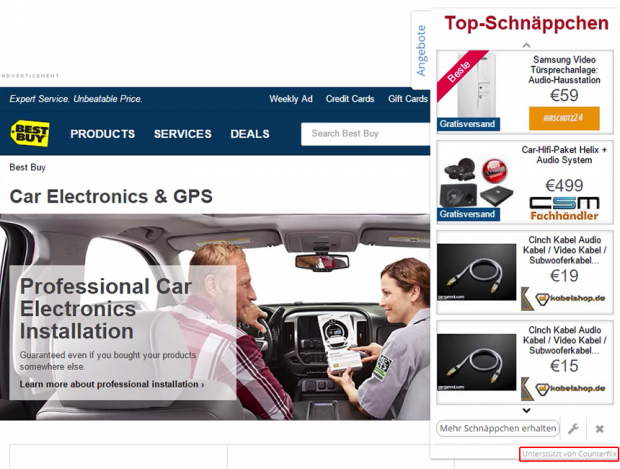 Officially, Counterflix is claimed to be an entirely benign solution. Its dominant feature is supposed to be all about unlocking geo-restricted content on a Windows computer. It presumably does this by camouflaging one's web traffic to make it look like the banned media resource is being accessed from a place other than the visitor's actual location. The hook is that such a functionality is indeed in demand with a great many people worldwide. It's common knowledge that multimedia services like Netflix, BBC iPlayer, Hulu, Pandora, Crackle, ESPN, HBO and similar have rigorous blacklisting mechanisms in place. This way, the operators of these resources try to protect the hosted proprietary content from unauthorized use and theft. Counterflix purportedly proxies a customers' geographic location details so that they can get around the blocking. However, it ends up meddling with a system's default DNS server configuration in order to inject arbitrary objects into web pages.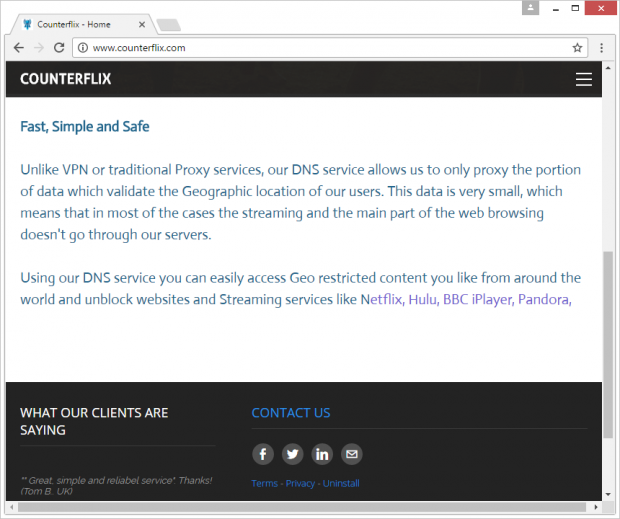 The upshot of this unsanctioned influence is pretty harsh. Whatever site a victim goes to, its original content will be distorted with annoying e-commerce information. The unwelcome items are going to be labeled "Ads by Counterflix", "Counterflix Ads" or "Brought to you by Counterflix". They mostly include deals, discounts, coupons, freebies, and product comparisons that occupy fairly large sections of visited pages. What's more, certain textual content may become hyperlinked all of a sudden, and the user may accidentally click on these links, which will open a new junk page. Interstitial advertisements are in Counterflix' nefarious arsenal as well – these are separate browser windows going off haphazardly or when the victim clicks anywhere on a current page. Technically, ads by Counterflix reside on a so-called virtual layer that invisibly overlays websites. At the end of the day, the problem grows unbearable and requires mandatory troubleshooting.
To steer clear of the Counterflix virus, the best tip is to exercise caution when installing free products, especially ones that look too good to be true. This baddie often accompanies media players, movie downloaders and software crack tools that are distributed on a bundling basis. The tricky installation clients may be configured to push additional apps, some of which may be malicious. So pay attention to what's underneath these setup wizards' default terms. To remove the Counterflix virus, follow the steps listed in the tutorial below. The procedure conforms to the best practices of adware cleanup, so be sure to give it a shot.
Automated removal of Counterflix virus
Owing to an up-to-date database of malware signatures and intelligent behavioral detection, the recommended software can quickly locate the infection, eradicate it and remediate all harmful changes. So go ahead and do the following:
1. Download and install the antimalware tool. Open the solution and have it check your PC for PUPs and other types of malicious software by clicking the Start Computer Scan button
2. Rest assured the scan report will list all items that may harm your operating system. Select the detected entries and click Fix Threats to get the troubleshooting completed.
Use Control Panel to get rid of Counterflix
• Open up the Control Panel from your Start menu in Windows Vista / Windows 7 / Windows 10 and select Uninstall a program. For Windows XP/8 – click Add or Remove Programs.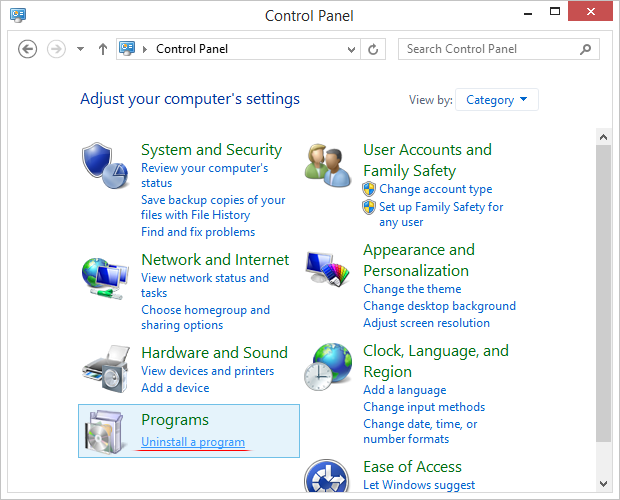 • To facilitate the process of locating the threat, sort the programs list by date to get the latest ones displayed at the very top. Find Counterflix or some other unfamiliar entry under the Name column, click Uninstall and follow further directions to get the removal done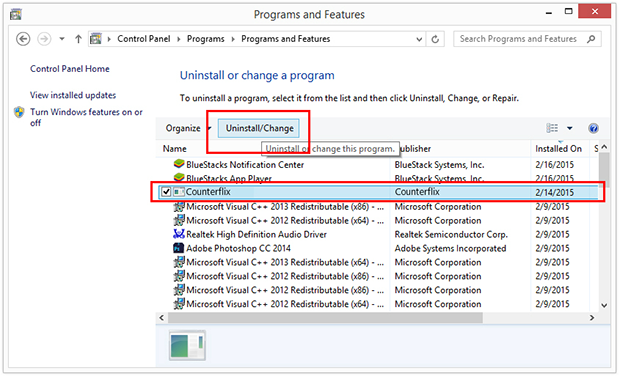 Restore correct LAN settings
• Go to Control Panel – Network and Internet – View network status and tasks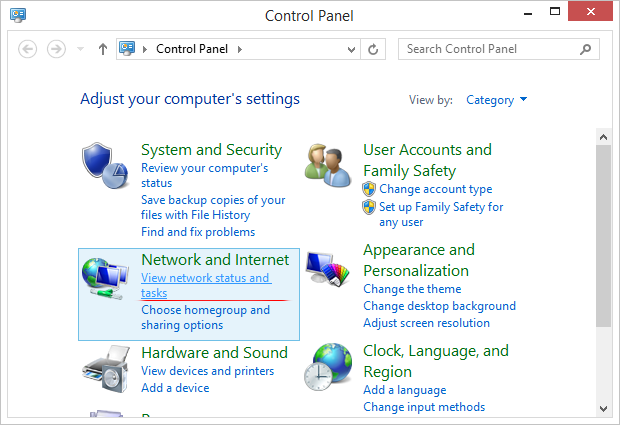 • Click the current Local Area Connection link as shown below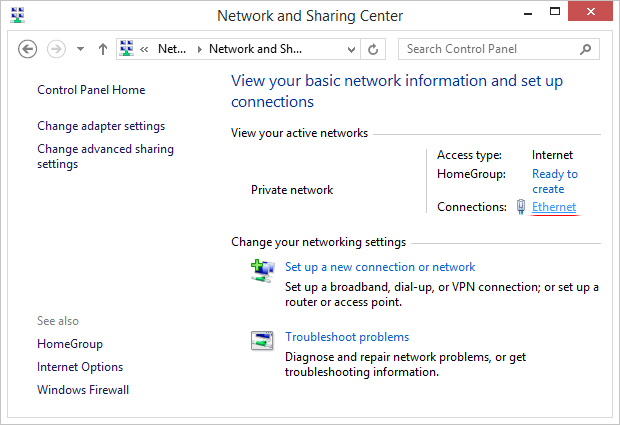 • When the LAN Status dialog pops up, select Properties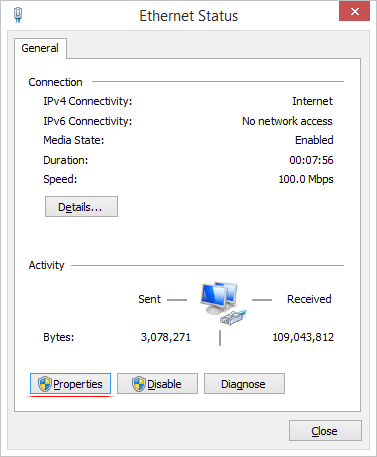 • Right-click on the Internet Protocol Version 4 (TCP/IPv4) entry and select Properties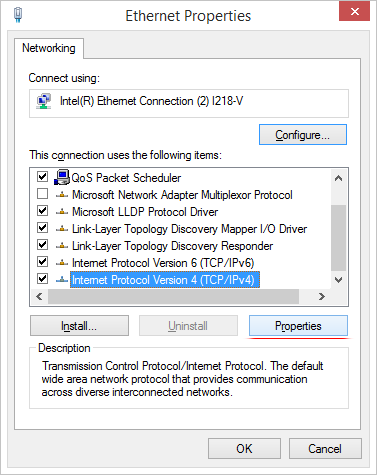 • Enable the Obtain DNS server address automatically option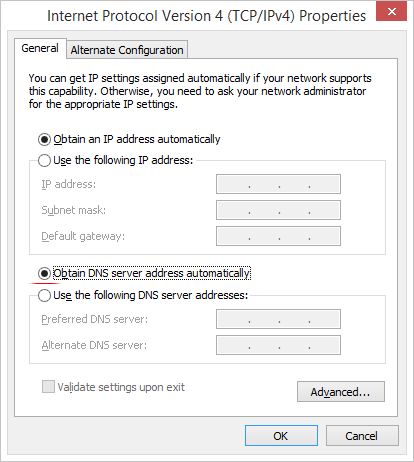 • Click OK to save the changes.
Restore web browser settings to their original defaults
In the circumstances of a complex browser hijack like this, executing a reset makes the most sense despite a few obvious downsides. Customizations such as saved passwords, bookmarked pages etc. will be gone, but so will all the changes made by the potentially unwanted program. The instructions below address the workflow for the web browsers most targeted by Counterflix.
Reset Google Chrome
• Open Chrome, click the icon for Chrome menu and choose Settings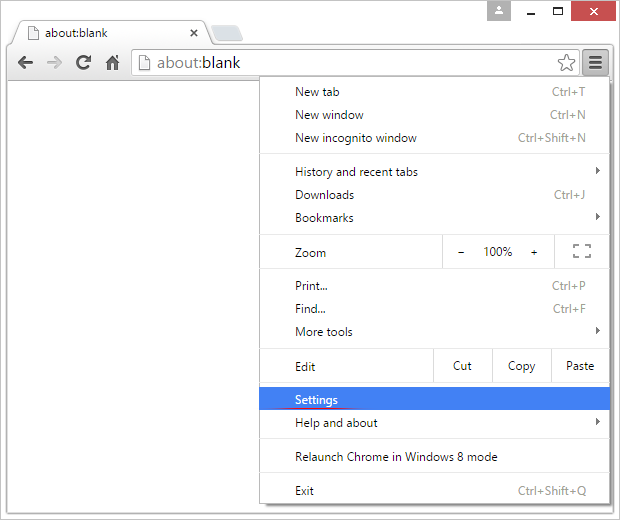 • Scroll down the settings screen and click Show advanced settings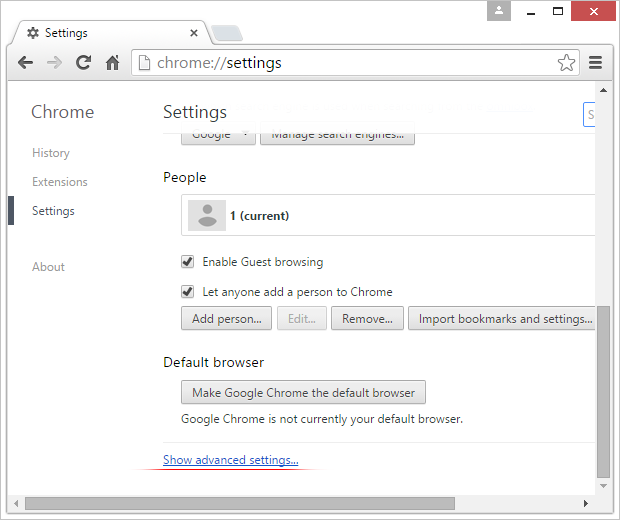 • Click Reset settings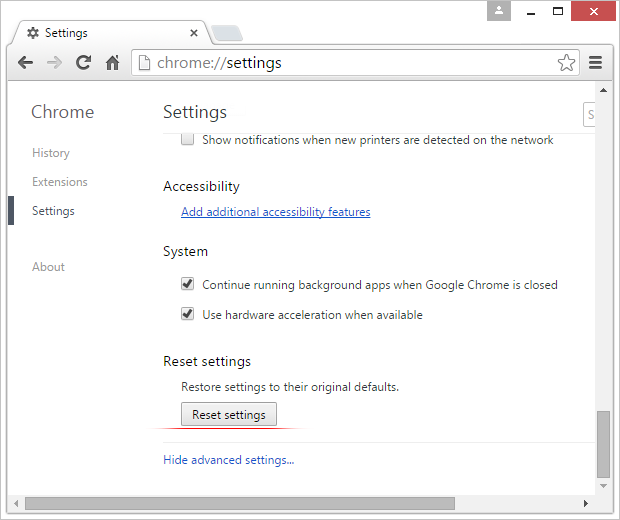 • Finally, confirm the restoration by clicking Reset on the warning message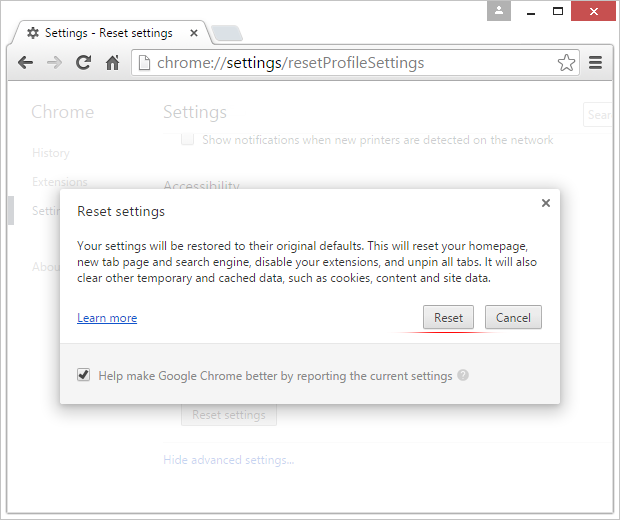 • Restart Chrome.
Reset Mozilla Firefox
• Open Firefox, type about:support in the URL area and press Enter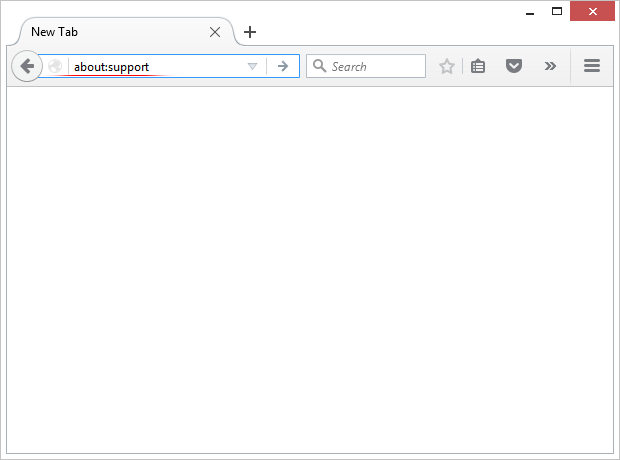 • On the Troubleshooting Information screen, spot the Refresh Firefox button and click on it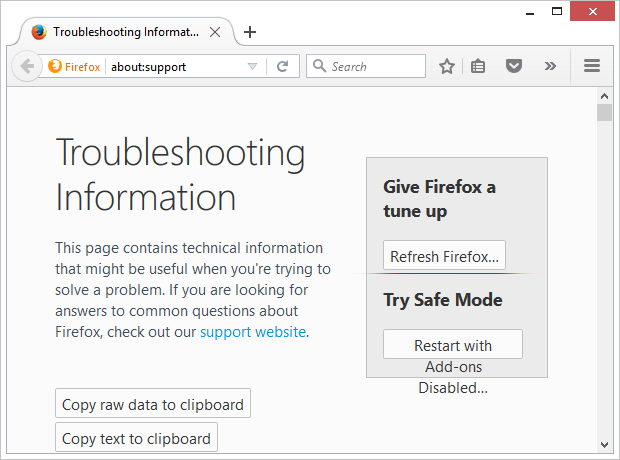 • Follow subsequent directions to reset Firefox to its original settings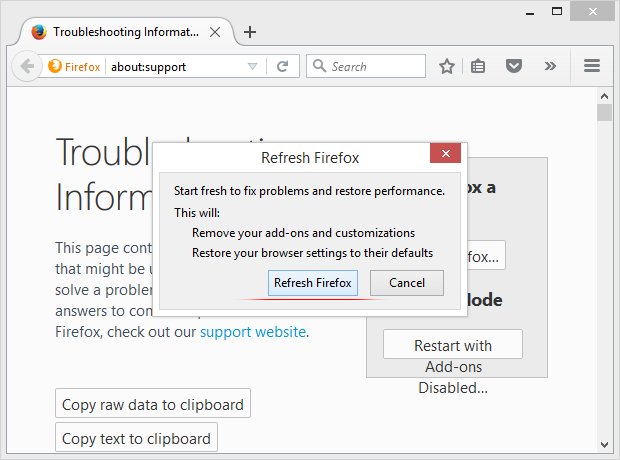 • Restart the browser.
Reset Internet Explorer
• Select Internet options under IE's Tools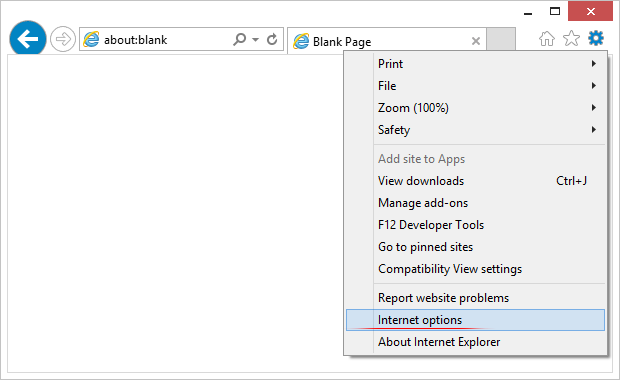 • Proceed by clicking on Advanced tab, then select Reset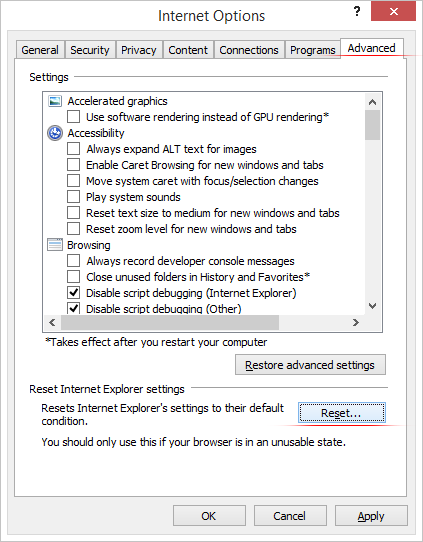 • To confirm the intended changes, click Reset on the Reset Internet Explorer Settings screen after ascertaining that the Delete personal settings checkbox is enabled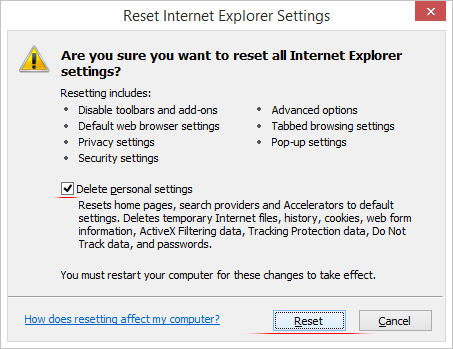 • Reboot the machine to fully implement the fix.
Revise your security status
Post-factum assessment of the accuracy component in malware removal scenarios is a great habit that prevents the comeback of harmful code or replication of its unattended fractions. Make sure you are good to go by running an additional safety checkup.