GlobeImposter ransomware continues wreaking havoc with its super-frequent updates, the latest one introducing the .726 extension added to hostage files.
The GlobeImposter ransomware strand is currently outperforming all the other lineages in the competition. Its makers are coining fresh variants every other day, thus flooding the malicious ecosystem with a bevy of concurrently circulating samples. This campaign's architects are apparently ambitious enough to try and dominate the extortion environment – at least that's what their hastiness suggests. The latest iteration of this perpetrating software differs from the multiple predecessors by the .726 extension appended to a victim's personal files, as well as rescue notes named RECOVER-FILES-726.html. The other indicators of compromise have remained the same for the most part.
The .726 file version of GlobeImposter is distributed via a classic malspam (malicious spam) wave. Targeted users receive emails with a subject line in the following format: Invoice NIC[6 random digits]. These messages go with a ZIP archive attachment. The extracted script file is either a VBS or JS entity that, once opened, downloads the ransomware binary from an affiliated domain. From the get-go, the infection deletes Shadow Volume Copies of the victim's data and creates a new startup entry in the system registry so that the harmful executable is subsequently launched every time the machine boots up.
Then, the .726 file edition of GlobeImposter scours the hard disk partitions for potentially valuable data. Following suit of most ransom Trojans out there, it goes equipped with a list of extensions and folders to be excluded from its scan routine. This way, it won't affect the stability of the operating system and doesn't waste time looking for infrequently used types of information. The rest of the files are subject to military-grade encryption with RSA-2048 algorithm.
GlobeImposter's data tweaking workflow does not presuppose any outer modifications of original filenames except the .726 extension being concatenated at the end of each one. Note that there may be two dots preceding this string. Therefore a sample entry named Panda.jpg becomes Panda.jpg..726. Despite such an ostensibly small change, none of these files can be opened, edited or otherwise handled in a regular way. Another instance of the contamination aftermath is the onset of ransom notes named RECOVER-FILES-726.html inside all folders containing enciphered information. These are supposed to walk the user through the recovery process. They read, "Your files are encrypted! For data recovery needs decryptor." Judging from the grammar, the crooks aren't native English speakers.
The recovery how-to instructs the victim to use Tor Browser, which the attackers call "TOP" for some reason, to visit a specially crafted ransomware support page. The page informs the user of the ransom size, which is originally set to 0.37 Bitcoin (about $1,200), and displays a countdown box reflecting the amount of time remaining before the ransom goes up to 0.74 Bitcoin. The deadline is 48 hours. The malefactors also claim to provide an option of decrypting one file for free, which is obviously a move aimed at proving that the paid restoration will actually work. Instead of taking the extortionists' demands seriously, though, it's strongly recommended to give alternative recovery methods a shot. See the section below for additional details.
GlobeImposter (.726 file variant) automated removal and data recovery
Owing to an up-to-date database of malware signatures and intelligent behavioral detection, the recommended software can quickly locate the infection, eradicate it and remediate all harmful changes. So go ahead and do the following:
1. Download and install the antimalware tool. Open the solution and have it check your PC for PUPs and other types of malicious software by clicking the Start Computer Scan button
2. Rest assured the scan report will list all items that may harm your operating system. Select the detected entries and click Fix Threats to get the troubleshooting completed.
Data recovery toolkit to the rescue
Some strains of ransomware are known to delete the original files after the encryption routine has been completed. As hostile as this activity appears, it can play into your hands. There are applications designed to revive the information that was obliterated because of malfunctioning hardware or due to accidental removal. The tool called Data Recovery Pro by ParetoLogic features this type of capability therefore it can be applied in ransom attack scenarios to at least get the most important files back. So download and install the program, run a scan and let it do its job.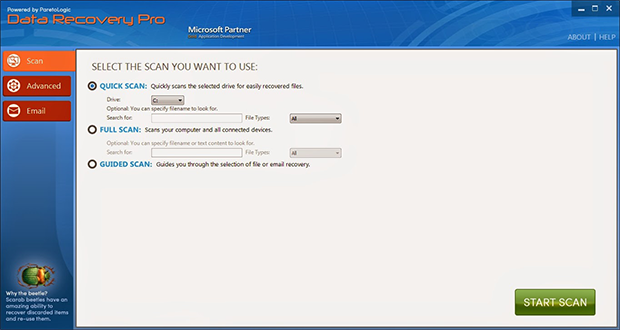 GlobeImposter ransomware manual removal and file recovery
Some ransomware strains terminate themselves after completing the encryption job on a computer, but some don't. Furthermore, the .master file virus may prevent victims from using popular antimalware tools in order to stay on board for as long as possible. Under the circumstances, it may be necessary to utilize the Safe Mode with Networking or System Restore functionality.
Be advised that even after the ransomware is removed, files will still be encrypted and inaccessible. The malicious code cleanup part, however, is important because it keeps a relapse of the infection from occurring further on and eliminates all opportunistic malware.
Ways of non-ransom recovery of .726 extension files
Cracking the crypto used by this ransom Trojan is more of a science fiction thing rather than an attainable prospect for the masses. This is why the troubleshooting in predicaments of this sort is a matter of two approaches: one is to pay the ransom, which isn't an option for many victims; and the other is to apply instruments that take advantage of the ransomware's possible weaknesses. If the latter is your pick, the advice below is a must-try.
Ransomware Prevention Tips
To avoid .726 file GlobeImposter version ransomware and other file-encrypting infections in the future, follow several simple recommendations:
Toggle your email provider's anti-spam settings to filter out all the potentially harmful incoming messages. Raising the bar beyond the default protection is an important countermeasure for ransom Trojans.
Define specific file extension restrictions in your email system. Make sure that attachments with the following extensions are blacklisted: .js, .vbs, .docm, .hta, .exe, .cmd, .scr, and .bat. Also, treat ZIP archives in received messages with extreme caution.
Rename the vssadmin.exe process so that ransomware is unable to obliterate all Shadow Volume Copies of your files in one shot.
Keep your Firewall active at all times. It can prevent crypto ransomware from communicating with its C&C server. This way, the threat won't be able to obtain cryptographic keys and lock your files.
Back up your files regularly, at least the most important ones. This recommendation is self-explanatory. A ransomware attack isn't an issue as long as you keep unaffected copies of your data in a safe place.
Use an effective antimalware suite. There are security tools that identify ransomware-specific behavior and block the infection before it can do any harm.
These techniques are certainly not a cure-all, but they will add an extra layer of ransomware protection to your security setup.
Revise your security status
Post-factum assessment of the accuracy component in malware removal scenarios is a great habit that prevents the comeback of harmful code or replication of its unattended fractions. Make sure you are good to go by running an additional safety checkup.