Spy Bot, the only Bluetooth Surveillance App for iOS
---
Stream Video
Spy Bot links two i-devices together to create an instant surveillance camera setup. Set up in an inconspicuous spot and watch from up to 50 feet away.
Record Discreetly
You can discreetly control recording and streaming from up to 50 ft away. Recorded videos save to the streaming devices 'My Videos' tab.
Bluetooth
Using Bluetooth to connect the devices makes Spy Bot extremely versatile. Set up the surveillance app anywhere – no wifi or carrier signal needed.
Upload & Share
What fun is secretly recording video if no one sees it? Upload captured videos and compete for dope prizes! Be sure to keep it classy, though.
Protect Yourself
If your hidden camera is about to be discovered, use the "Kill" button to exit the program on both devices to the main screen, protecting your identity.
---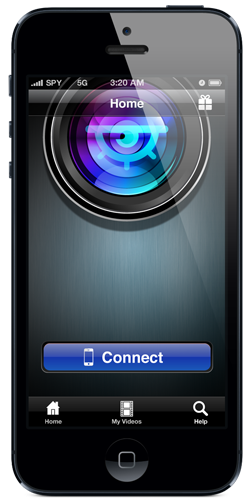 How does Spy Bot work?
Simply put, Spy Bot works as a surveillance app for your iPhone, iPad and / or iPod Touch. You use devices you already own to create an instant bluetooth spy camera. One device acts as the camera, and the other receives the video / audio.
For instance, you could connect your iPhone to your friend's iPad. Then set your iPhone down in an inconspicuous spot such as a desktop or somewhere it can blend in with the surroundings. From the next room, you could watch everything the iPhone's camera sees from your friend's iPad screen and control recording.
If someone notices the iPhone, press the kill button to exit the app. If they pick it up to investigate, all they will see is the home screen. You quickly enter saying, "I thought I left that in here! Thanks for finding it."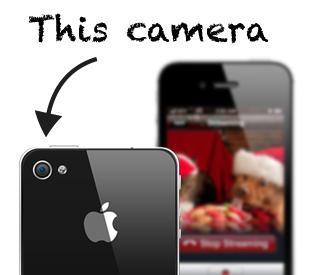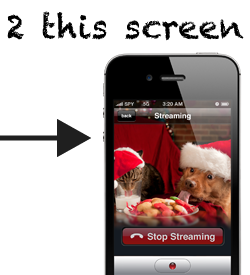 ---
Spy on your Parents
What's making those zoo noises in your Mom's room when Steve visits?
Watch your boss

Now you can see what he considers a valuable use of his time.
Medicine Cabinet Guard
Spy Bot can find out who's been getting into your pills at the party
Boyfriend / Girlfriend Patrol
Is your boyfriend / girlfriend flirting when you leave the room? Find out today!
Watch your Kids
Are your kids really in their rooms doing their homework? Probably not.
Professor's Secrets
Maybe your professor could be… persuaded to give you a better grade.
Spy Bot
can be used in a variety of situations. Anything from spying on your girlfriend or boyfriend to the pets. All it takes is two bluetooth enabled i-devices running Spy Bot.
Spy Bot comes along wherever you take your iPad, iPhone or iPod Touch:
Home
Office
Gym
Liquor Store
School
Restaurant
DMV
Museum
---
What's so great about
Bluetooth

?

While other apps use wifi, carrier signal or bulky third party items, Spy Bot is the only bluetooth surveillance app for the iPhone, iPad and iPod Touch that uses devices you already own. That means that Spy Bot can be used in places that other apps cannot!

Spy Bot can work anywhere you have a good bluetooth connection between your devices. You could be in the middle of a forest hunting down bigfoot or on an airplane soaring over the ocean. As long as you have that bluetooth connectivity, you can use Spy Bot!

And by the way, we want to see your videos! You can sign up and compete for prizes on our

facebook page!

Download Spy Bot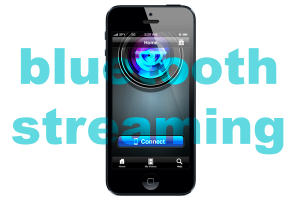 ---