We Reward Your Sneaky Skills
Using Spy Bot to peep on your surroundings is fun. But what's even more fun is being rewarded with dope prizes!
Spy Bot is hosting a bi-monthly contest for users to show off their videos. Each contest will award the best video with a spy-themed prize or gift cards.
We'll update our blog with new contests and prizes regularly.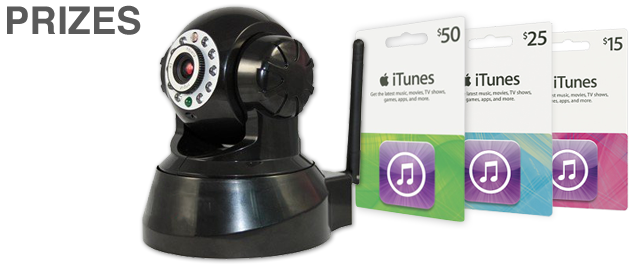 ---
March Prizes
Grand Prize
:
Wireless Night Vision Camera + $15 iTunes Gift Card
Second Place
:
$50 iTunes Gift Card
Third Place
:
$25 iTunes Gift Card
---
How To Enter
Join our Facebook Page and post your videos.
Every video shared is automatically entered depending on the criteria of that month's contest. So if the contest is for scariest prank within the last 60 days, the prank video with the most likes in the last 60 days in the wins!
We encourage you to employ any methods you can think of to promote your video. Share it on your friends' walls. Tweet for votes. Bribe your family and friends with back massages and candy. Do whatever it takes to get those likes!!
Contest Rules
Winning entries must be shot using our app, spy bot. You can pick it up at the app store. The winner must show proof of purchase (itunes receipt) to claim prize. Just think of the app as your entry ticket.
Winner must respond to email within 10 days. If we can't get in touch with you, the prize goes to the next in line. So make sure we have a working email for you!
Apple, Inc & Facebook.com are in no way associated with our contests or prizes.
These rules are subject to change, but we won't change them while a contest is running. Make sure you check back if you are planning to win.